Bears kicker Cody Parkey hits upright four times in game against Lions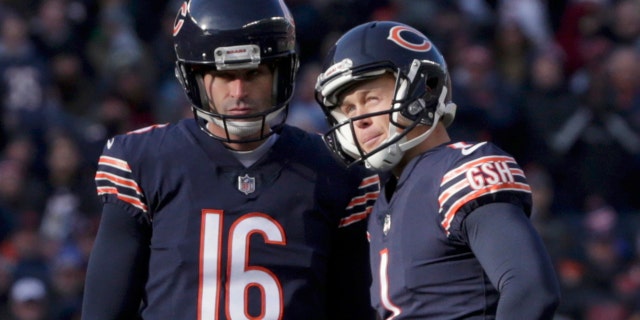 NEWYou can now listen to Fox News articles!
The Chicago Bears finished with a 34-22 win over the Detroit Lions on Sunday – despite kicker Cody Parkey hitting uprights 4 times during the game, The Chicago Tribune reported.
Parkey missed an extra-point off the right upright in the south end zone with less than 12 minutes in the first quarter. The kicker missed again in the second quarter, off the left upright in the north end zone.
Parkey tried again in the third quarter, hitting the right upright in the south end zone from the 41 and 34-yard line.
Each missed kick brought more discontent from the Bears' coach Matt Nagy and fans alike. Parkey affected disbelief at his performance.
"I don't think I've hit the post four times in my whole life, and I've been kicking for about 15 years, so it's almost comical," the 26-year-old kicker said. "Of course (coaches are) frustrated with me but who's more frustrated than myself. This is my job, this is what I'm supposed to do and I'm missing out there. So I mean I've just got to trust in what I'm doing."
Fans let out a loud roar when the Bears went for a 2-point conversion after a touchdown by wide receiver Allen Robinson in the third.
Nagy said he was not amused with Parkey's performance but ruled out replacing him.
"I know he's going to come back strong," Nagy said. "It's just one of those days, and we all have them."
Parkey, a five-year NFL veteran, signed a four-year deal with the Bears worth $9 million, The Chicago Tribune reported.
The Associated Press contributed to this report.