Bears GM Pace doesn't expect Alshon Jeffery to miss Week 1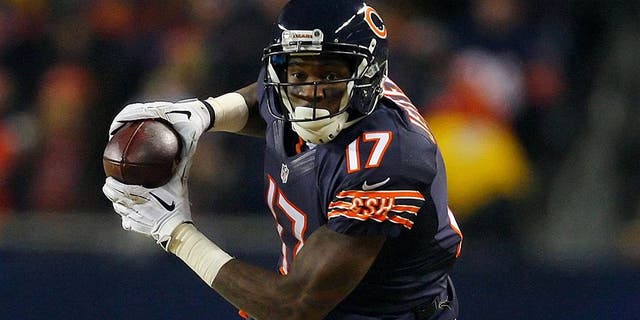 Chicago Bears wide receiver Alshon Jeffery is currently dealing with a calf injury, but the team doesn't expect it to linger into the regular season.
Even though the injury originally had him in a walking boot and using crutches, Bears general manager Ryan Pace said he "doesn't anticipate" Jeffery missing the regular season opener, according to Zach Zaidman of the Bears Radio Network.
Late last week, ESPN's Adam Schefter reported that Jeffery's injury, which he described as a "mild calf strain," would keep him out for "about a week."
The Bears need Jeffery now more than ever. They Brandon Marshall away to the New York Jets this offseason, and first-round rookie receiver Kevin White (No. 7 overall pick in 2015 NFL Draft) is in danger of missing the entire season with a shin fracture that needs surgery.
Without Jeffery in the lineup, embattled Bears quarterback Jay Cutler won't have a big-time target to help him out at the wide receiver position.
(h/t @ZachZaidman, @AdamSchefter)