Bears expect to know more about Cutler's status for this week's game against Lions on Thursday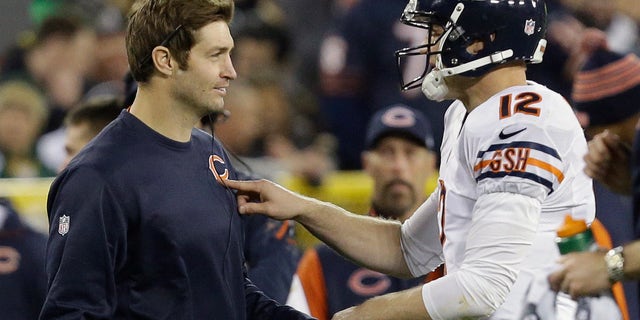 LAKE FOREST, Ill. – The Chicago Bears are hoping to get some clarity Thursday on Jay Cutler's recovery from a groin injury and his status for Sunday's game against Detroit.
Coach Marc Trestman said his quarterback would have been listed as limited had Chicago practiced on Wednesday. Instead, the team went through a walkthrough.
The Bears (5-3) are coming off a win at Green Bay on Monday night that vaulted them into a tie for the NFC North lead with the Packers and Lions. Detroit visits Sunday, and Cutler's status is up in the air.
"I don't know where he's at really," Trestman said. "He's been running around, working out with the trainers. He spent a lot of time on the off day with (director of rehab) Bobby (Slater), working with bands, redirecting and things like that. It'll be day to day and we'll see more tomorrow. We're hopeful but we've got to be reserved about it as well."
Cutler tore his left groin muscle against Washington on Oct. 20 and sat out against the Packers, after the Bears had a bye the previous week. Veteran Josh McCown has played well in his place, but Trestman insisted that won't impact the decision.
He again said Cutler will play when he's ready — and the doctors will determine when he's ready.
"There is no gray area in this decision," Trestman said. "The doctors are either going to say he can play, and that means he can play without any sense that there's going to be (a setback). ... If he is then he'll go. That's really it."
The Bears initially said that Cutler would likely be out at least a month and be evaluated on a week-to-week basis after that. But an early return is looking more possible.
Cutler said last week that he hopes to be back sooner, and wideout Brandon Marshall said the "worst-case scenario" would have him returning against Detroit.
Cutler told Chicago's WMVP-AM 1000 on Tuesday that he wasn't sure if he would be ready for the Lions. But Marshall sounded confident that he will be ready to play.
"Jay's on the right track," he said. "I think he's going to try it this week. If he can go, he'll go, if he can't, I think he's going to make a very hard decision to rest it a little bit more. But he's definitely put himself in position to make it out there for Sunday."
Trestman said the Bears are "hopeful," but need "to be reserved about it as well." Going up against Ndamukong Suh and the Lions would be difficult enough for a healthy quarterback, let alone one who might be limited. And the last thing the team needs is a setback for Cutler, even if McCown has been playing well.
After Cutler went down against Washington, McCown completed 14 of 20 passes for 204 yards, and he came through with a solid performance against Green Bay.
His numbers weren't eye-popping — 22 for 41 with 272 yards — but he threw two touchdowns without an interception. He also led an 80-yard drive that lasted just under 9 minutes and ended with a late field goal, helping the Bears prevail 27-20 in their first win at Lambeau Field since 2007.
"The way he rallies the guys in practice, the way he prepares, it's contagious, a trickle-down effect," Marshall said. "He affects our coaching staff, he affects players on offense and defense, he's just that type of guy."
Even so, the Bears need Cutler. They need his rifle arm and his play-making ability, and Marshall was quick to point that out.
"Now, when it comes to Jay, he's our leader, he's our captain," Marshall said. "How far Jay takes us, that's how far we're going to go."
NOTES: Trestman said long snapper Patrick Mannelly has a calf injury and that "it doesn't look good for this week." The Bears signed LS Jeremy Cain, who spent the past four years with Jacksonville and played for Chicago in 2004 and 2005.
___
Online:
AP NFL website: www.pro32.ap.org