Bears don't know what they'll do at LT when Jermon Bushrod returns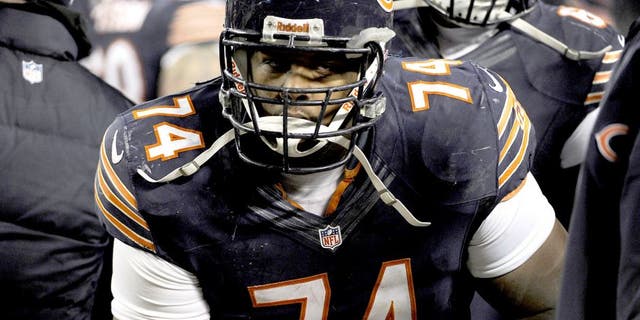 Bears LT Jermon Bushrod may have lost his starting job while recovering from injuries. David Banks Getty Images
The Chicago Bears are supposed to get left tackle Jermon Bushrod (concussion/shoulder) back soon, but he's not guaranteed to get his starting job back. His replacement, Charles Leno Jr., has played pretty well in his place over the past three weeks.
Bears offensive line coach Dave Magazu has no idea who will start at left tackle when Bushrod makes his return, according to ESPN's Jeff Dickerson.
"When you guys figure it out let me know," Magazu said. "I don't know. I haven't gotten that far. That will be something we discuss and move on from there. I don't know. I'm not even lying. And I don't have a problem lying to you guys."
Bushrod is a 31-year-old veteran with a Pro Bowl pedigree from his days as Drew Brees' blind-side protector down in New Orleans. He has started every game in which he has appeared since signing with Chicago before the 2013 season.
Leno, on the other hand, had a chance to win the right tackle job during the preseason and was largely unimpressive. He was a seventh-round pick in last year's draft, so his sudden emergence is certainly surprising.
MORE NEWS: Want stories delivered to you? Sign up for our NFL newsletters.