Bears claim QB Dysert and TE Sinclair, trim roster down to 75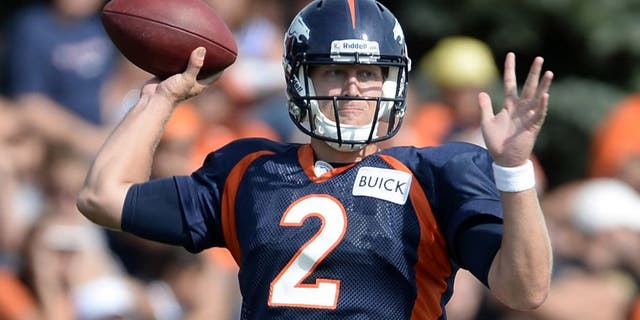 The Chicago Bears whittled their roster down to 75 men on Tuesday. While several players were cut from the team, the Bears also announced the addition of two players -- quarterback Zac Dysert and tight end Gannon Sinclair -- via waiver claims.
Dysert, 25, is a former seventh-round pick out of Miami (Ohio) who previously backed up Peyton Manning and Brock Osweiler in Denver. The Bears waived undrafted rookie quarterback Shane Carden to make room for Dysert on the roster.
Sinclair, 20, went undrafted out of Missouri State in this year's draft and was recently released by the Arizona Cardinals. Guard Lucas Nix was waived to open a spot for Sinclair on the Bears' roster.
The Bears also used some injury designations to get down to the league-mandated 75-man roster. For example, running back and special teams standout Senorise Perry was placed on injured reserve (IR), the team announced on Twitter.
Veteran safety Ryan Mundy was also placed on IR, according to Patrick Finley of the Chicago Sun-Times. First-round rookie wide receiver Kevin White was placed on the physically unable to perform (PUP) list, while fellow wideout Josh Chiles was waived/injured.
The most surprising of the cuts was the team's decision to part ways with Pro Bowl cornerback Tim Jennings. The Bears also terminated the contract of running back Daniel Thomas, according to the Chicago Sun-Times.
Per the report, the Bears waived safety Malcolm Bronson, tight end Kevin Greene, tackle Cameron Jefferson, wide receiver Jeremy Kelley, cornerback AL Louis-Jean, long snapper Rick Lovato, wide receiver Levi Norwood, defensive end Olsen Pierre and tight end Chris Pantale to complete the round of cuts.
(h/t Chicago Bears, Chicago Sun-Times)