Beach volleyball said to be Rio Games' sexiest summer sport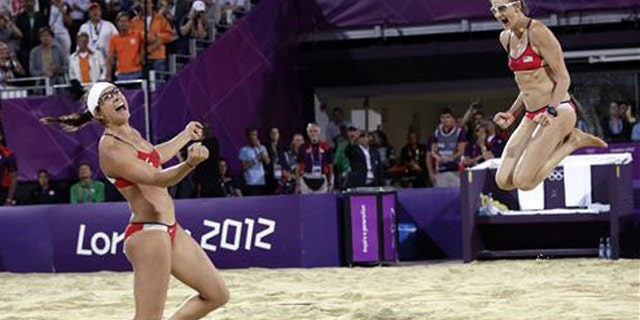 NEWYou can now listen to Fox News articles!
Sand, sun and samba.
Even on a royal parade ground in the middle of staid London, the Olympic beach volleyball competition four years ago pulsated to the music of a DJ while dance teams jiggled during the breaks. When the Summer Games' sexiest sport opens in Rio de Janeiro, the biggest competition for the party atmosphere inside the venue could come from the surrounding Copacabana Beach.
Although the sport was invented in Southern California, its spiritual home could be the stretch of sand in Brazil where a temporary 12,000-seat stadium will welcome the world's top players. Among the favorites are the hometown teams, including two Brazilian women's tandems that will try to stop American Kerri Walsh-Jennings in her attempt at a fourth straight gold medal.
Here are some things to look for from the Olympic beach volleyball venue on Copacabana Beach, where music and passion are always the fashion:
HER NAME IS KERRI
A three-time defending Olympic champion, Walsh Jennings will turn 38 during the Rio Games. Her path to a fifth Olympics — she also went to Sydney with the American indoor volleyball team — has been more of a struggle than years past because of a separated right shoulder that twice interrupted the path to qualification.
Walsh Jennings says she's healthy now, and since returning from shoulder surgery she and partner April Ross have steadily moved up the rankings on the international tour. They will arrive in Rio as a No. 3 seed, behind the two Brazilian teams.
AND WHILE SHE TRIED TO BE A STAR
When longtime partner Misty May-Treanor retired after the London Games, Walsh Jennings looked across the net to grab Ross off the team they beat in the gold medal match.
Ross, 34, brings a little more youth to the partnership, but she still has Olympic experience. She was three-times voted the FIVB tour's best server, and she has also earned top honors for her hitting and her offense.
But there was also a problem in the new pairing: Both Ross and Walsh Jennings were accustomed to playing on the left side. Walsh Jennings volunteered to make the switch.
AT THE COPA
Brazil is the most decorated nation in Olympic volleyball history, winning 11 of the 30 total medals since the sport was added to the Summer Games program in 1996. (The United States has nine.)
But the Brazilians have only claimed two golds — one each in men's and women's — despite dominating the international tours that determine Olympic qualification. (The U.S. has six of a possible 10.)
This year, the defending women's world champions Agatha and Barbara were second in the rankings only to the pairing of 2012 bronze medalist Larissa and 2008 fourth-place finisher Talita. On the men's side, Alison and Bruno bring a No. 1 seed and a world championship to their hometown, while fourth-ranked Pedro and Evandro could use the home-town advantage to step onto the medal podium.
THEY WERE YOUNG AND THEY HAD EACH OTHER
Walsh Jennings and Ross aren't the only Americans with new partners.
Two-time Olympian Jake Gibb is back, this time with newcomer Casey Patterson. And Phil Dalhausser, who won gold in Beijing and finished ninth in London with Todd Rogers, is paired up with Olympic rookie Nick Lucena.
The only tandem of first-timers is the second U.S. women's team, with Brooke Sweat and Lauren Fendrick making their Olympic debut.
THEY USED TO HAVE A SHOW
Defending men's champions Julius Brink and Jonas Reckermann of Germany won't be back.
Reckermann retired five months after the London Games due to back and shoulder injuries. Brink teamed up briefly with former training partner Sebastian Fuchs before calling it quits.
Also sitting this one out: Five-time Olympian and three-time medalist (one of each) Emanuel, who won silver in London with Alison.
It will be the first time there will be an Olympic beach volleyball tournament without him.
Like us on Facebook
Follow us on Twitter & Instagram