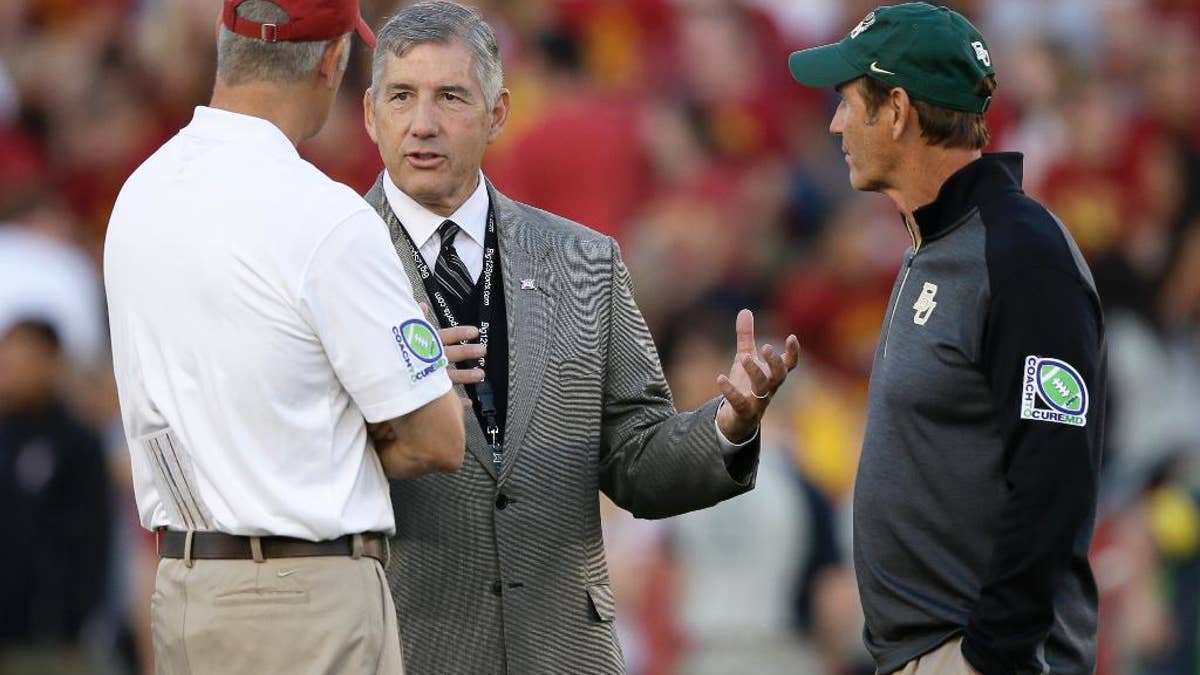 A few things to watch the second Saturday of October, when the Big 12's top game is usually the Red River rivalry. This time, No. 11 Oklahoma and Texas isn't even the biggest game in Texas.
GAME OF THE WEEK: No. 9 TCU at No. 5 Baylor. On the banks of the Brazos River in Waco, about 100 miles from the State Fair of Texas in Dallas, the Big 12's last remaining undefeated teams play in a somewhat unexpected Top 10 matchup. Baylor and TCU first played in 1899, but never before have both teams been ranked for the game in a series that is dead even at 51-51-7. Baylor is the defending Big 12 champion and has been in the Top 10 all season. But TCU went from unranked to No. 9 in a two-week span, jumping 16 spots in this week's poll after beating then-No. 4 Oklahoma. Baylor and TCU are the Big 12's top two teams in total offense and total defense.
BEST MATCHUP: Baylor coach Art Briles vs. TCU coach Gary Patterson. Art Briles has made the Bears, once the league's perennial last-place team, a Top 10 team with his up-tempo, big-play, high-scoring offense. While Patterson hired two new co-coordinators to install a spread offense for the Frogs, his focus is still on the defense — like it was when he was the TCU defensive coordinator before becoming head coach after the 2000 regular season.
INSIDE THE NUMBERS: Oklahoma is 31-0 in regular-season games following a loss since 2000. ... The 20 sacks by the Texas defense are the most by the Longhorns through five games since 1985. ... Iowa State plays the Big 12's final non-conference game when it hosts Toledo (4-2). The Cyclones first five opponents were a combined 22-3, the highest winning percentage (92 percent) by opponents in FBS. ... Texas Tech has lost three straight games after a 45-13 loss at Kansas State. The 13 points were the fewest for the Red Raiders in the last 33 games. ... Kansas had a Big 12-record 14 punts last week at West Virginia.
LONG SHOT: In what has become all too common, Kansas is a three-touchdown underdog at home against No. 16 Oklahoma State. The Jayhawks lost 33-14 at West Virginia in their first game under interim coach Clint Bowen, and now play their first home game since coach Charlie Weis was fired. The Cowboys have won four in a row and nine of the last 10 in the series.
IMPACT PLAYER: West Virginia quarterback Clint Trickett is the Big 12's top passer and leads the league in total offense — though he has minus-20 yards rushing this season. Trickett is third among FBS quarterbacks with 380.4 yards passing per game with 10 touchdowns and four interceptions. He has thrown for at least 302 yards in every game this season.
___
Compiled by AP Sports Writer Stephen Hawkins in Fort Worth, Texas.
___
Follow Stephen Hawkins on Twitter at www.twitter.com/hawkaptexas.