Bayern exact revenge on Arsenal with crushing beatdown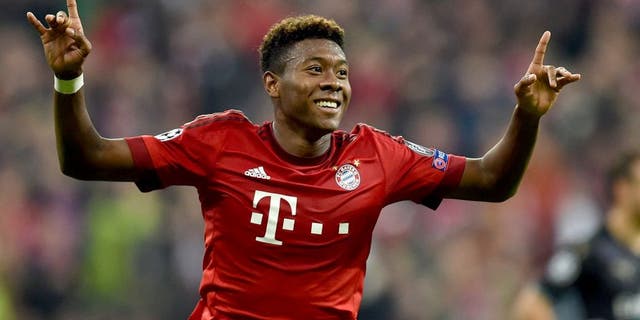 There was to be no second act for Arsenal in Munich, no repeat of the glorious performance of three weeks prior. This was, instead, a beatdown delivered by one of the best teams in the game as Bayern Munich swept aside Arsenal 5-1, scoring three before the first half whistle was even blown.
The result leaves Bayern with one foot in the knockout rounds (they will arrive there shortly) and Arsenal in the cellar of Group F. Arsenal can still qualify, but they will have to win both of their final two games, against Olympiakos and Dinamo Zagreb. This is not unthinkable, but it must be acknowledged that this Arsenal side looks several cuts below Europe's elite. Riven by injuries, if Arsenal does manage to clamber their way out of the mess they find themselves in, they are still going to have to find another gear.
"I think we have to win both games (against Dinamo Zagreb and Olympiacos) and get at least two goals against Olympiacos," Per Mertesacker told BT Sport. "We went through an even more difficult period (in the past) so it's not over and that's how we approach the situation now. That was difficult tonight but we'll learn from it as always and bounce back quickly on Sunday. We need to put away the negative energy and fight back."
Bayern were simply unstoppable tonight at the Allianz, looking a team possessed. Stung by their 2-0 loss at the Emirates Oct. 20, the Bavarians pressed from the opening whistle, flooding the middle and peppering a sub-par Arsenal back four with vicious crosses from the endline. With Hector Bellerin, Theo Walcott and Laurent Koscielny leading a formidable injury list, Arsenal had no way to break the pressure and little understanding when it came to pulling the offside trap.
That lack of communication killed them after just ten minutes, when the deadliest striker at the game at the moment was allowed to run right on to a cross to score. That man, of course, is Robert Lewandowski, and he went right by Gabriel to receive a ball from Thiago Alcantara that gave Petr Cech no chance at all. While the Gunners hollered that Lewandowski was offside, he clearly wasn't -- Gabriel had dallied when his teammates pushed up, keeping the Polish hitman perfectly on.
Arsenal almost replied immediately, on a controversial play. Mesut Ozil appeared to have the ball back in the net in the 12th minute, and the goal was initially given -- until the official behind the goal intervened. Ozil was subsequently booked for using his hand to steer the ball into the net, but replays showed that the play instead was a brilliant piece of improvisation, and the ball had actually ricocheted off Ozil's shoulder, and should have stood.
Ozil's failed attempt didnt matter. The goal would not have made the difference, and Bayern were so irresistible after that it was a question of not if they would score, but when and how many. Cech made two fine back-to-back saves off Lewandowski and Kingsley Coman and was forced to parry high balls away as the Gunners became increasingly confined to their own half.
Thomas Muller added the second just before the half-hour mark off a broken play, and a fortunate deflection. Douglas Costa ran down the far flank to create space for Phillip Lahm, and then laid the ball off to the captain. Lahm in turn dinked the ball over the area to Coman, who smacked a bouncer into Muller in traffic. Muller settled it, and pinged a fine shot to the near post off Mertesacker, again leaving Cech helpless.
David Alaba would then end the first half with a great goal from range, collecting from Xabi Alonso, strutting through the middle of the field and then catching Gabriel backing off. He took the chance and buried a 30-yard screamer to the top near corner with his left foot.
After the break, Arjen Robben entered as a sub and immediately scored with his first touch of the game. Costa again created the space with an inside-out run with Alaba that resulted in a square ball right to Robben for a simple side-footed chip over his former Chelsea teammate.
To their credit, Arsenal did not give up. Olivier Giroud sunk a fine, acrobatic goal off an overhead kick in the 7th minute off a delicate chip from the near side served up by Alexis Sanchez. Giroud stormed into the net past keeper Manuel Neuer and grabbed the ball, as if to signal the comeback was on. It was a nice gesture, but the comeback was not.
Robben nearly nicked the fifth with seven minutes to play, but Mathieu Debuchy made a brave saving tackle with Cech out of the play to prevent the goal. Instead, that task fell to Muller, who had been denied moments earlier. He made a run off the flank of the outclassed Gabriel to latch onto a fine cutting ball from Douglas Costa to peg it past Cech at his near post.