Barry Bonds' Legal Fate Rests With Jury in Perjury Trial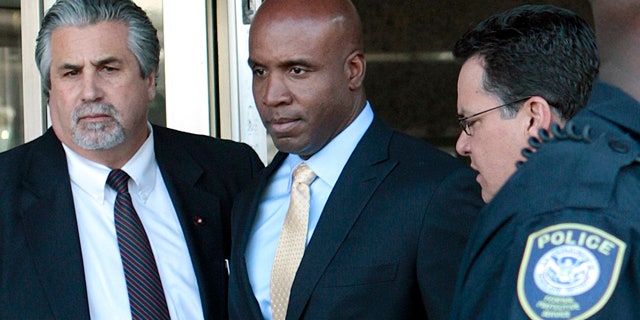 SAN FRANCISCO -- As jurors deliberated the government's case against Barry Bonds on Friday, a judge ordered the release from prison of the slugger's trainer and defense attorneys accused a prosecutor of giving a misleading closing argument.
The jury of eight women and four men began their deliberations at 8:30 a.m. Friday local time. Attorneys made their final appeals to the panel on Thursday and the jury then decided to break for the night.
While they worked behind closed doors, U.S. District Judge Susan Illston ordered Bonds' personal trainer, Greg Anderson released from the federal prison in Dublin, Calif. Anderson has been imprisoned there since Illston found him in contempt of court on March 22 for refusing to testify at the trial of his childhood friend.
Defense attorneys, meanwhile, accused Assistant U.S. Attorney Matthew Parrella of delivering an "utterly misleading and completely improper" closing argument when the prosecutor told the jury Bonds' knew the difference between the designer steroid "the clear" and the legal supplement flaxseed oil.
Defense lawyer Dennis Riordan asked the judge to call jurors back into the court room and admonish them to ignore Parrella's comments about "the clear" and flaxseed oil he delivered while discussing the testimony of Stan Conte, the former San Francisco Giants athletic trainer. Illston made no immediate ruling.
The jury did send a note out to the judge but it was not immediately clear what it contained.
Bonds, who owns the major league records for home runs in a career and a season, is charged with three counts of lying to a grand jury in 2003 and a count of obstruction for denying that he knowingly took performance-enhancing drugs and for saying no one other than his doctors gave him an injection.
One of those charges accuses Bonds of lying when he testified that he believed Anderson was supplying him with flax seed oil when the substances was actually the clear.
"How do we know that," Parrella asked rhetorically during the portion of his closing argument now under attack. "Stan Conte testified that another one of the defendant's trainers named Harvey Shields used flaxseed oil all the time with the defendant, rubbed it on his legs and ankles. So does it make sense that the same stuff that Harvey Shields was rubbing on your legs, Greg Anderson would be coming up with a little vial and you would be drinking it?"
Riordan responded that: "The argument, though extremely powerful, was utterly misleading and completely improper. Stan Conte never testified that Harvey Shields rubbed flaxseed oil on the defendant's legs and ankles."
Riordan said that Conte expressly testified to the contrary.
"I don't know anything about flaxseed oil," Conte said from the witness stand on Tuesday.
Bonds was originally indicted in November 2007.
If convicted on any of the charges, federal guidelines recommend a prison sentence of between 15 and 21 months, though Bonds' punishment could be far less severe.