Barcelona's penalty woes unlikely to halt title march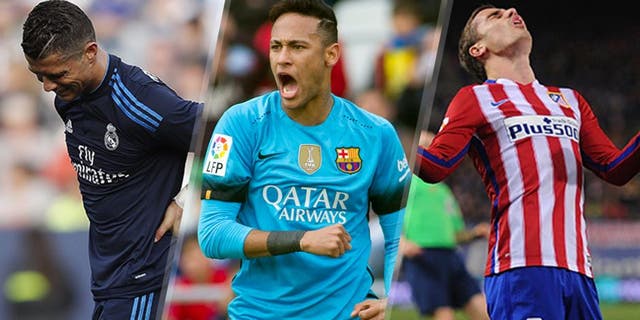 One thing they apparently don't teach too well in the best finishing school of the world's favourite sport, the elite bracket of Spain's La Liga, is how to take a penalty. Ask Lionel Messi. He has scored more than 300 league goals for Barcelona -- he reached that landmark with two in Wednesday's win over Sporting Gijon -- and an extraordinary proportion of them have been brilliant, unique, innovative and breathtakingly executed strikes. But he'd have 308 Liga goals to his name by now if he'd only been a little better at the simple act of directing a shot on target, with a dead ball, past a goalkeeper and no defenders from 12 yards.
In all his career, Messi has converted 66 successful penalties. And there have 18, for club and country, where he failed to score. It is a startlingly imperfect ratio for the most gifted footballer of his epoch. Last weekend, he applied his ingenuity and imagination to challenge one of the sport's most established orthodoxies, which is that a penalty necessarily means a shot at goal. He passed the ball, which is legal but very, very rare, after having been awarded, and then designated to take, a spot-kick. He invited Luis Suarez, the nearest colleague, to score from the pass he rolled to his right from the penalty spot on the way to a 6-1 thrashing of Celta Vigo.
Suarez re-established his spot as La Liga's leading scorer for the season so far with that goal, so it was a generous, collegiate gesture by Messi, even if Neymar, who has led the list of top-scorers in Spain for some of the campaign, later claimed, with no rancour, it was he who had been the intended beneficiary of Messi's unconventional gesture with the penalty. The indirect penalty made a big story, for its rarity; it also added, by accident, to the statistics that say Messi is not very good at them. Including the pass from the spot against Celta, Messi has now not scored from five of the last 12 penalties he has taken.
Perhaps Barca ought to consider having a new chief penalty-taker. Trouble is, other candidates are wanting in that area too. Suarez, given a rare stab at penalty duty, could not convert the one Barcelona were awarded last week against Sporting, where the visitors won 3-1. Neymar has scored six penalties in his Barcelona career; he's also failed from the spot four times. It's almost as if the simpler, static opportunity to beat a goalkeeper with most of the odds in your favor is too vulgar for Messi, Neymar and Suarez, a trio of otherwise outstanding finishers.
In terms of the destination of the Liga title, Barcelona's missed penalties are barely relevant, a small pimple on the face of a supermodel. They seldom cost points and the men who fail from 12 yards out with a stationary ball have a habit of putting their names on the scoresheet within 90 minutes of that setback. Suarez scored Barcelona's opening goal, to take his tally for the Liga season to 25 in the sixth minute of the 2-1 victory at Las Palmas on matchday 25, three days after the trip to Gijon, while Neymar added the second after the Canary Islanders had drawn level. Barcelona had it tough for much of the afternoon, and betrayed some signs of having their minds on Tuesday's Champions League last-16 first leg away at Arsenal.
When they set off for London on Monday, though, they cannot help but feel happy. Events elsewhere pushed them closer to the successful defense of their domestic title and very ready to thank whatever Iberian virus is toying with the ability of the world's finest goalscorers to fulfil the task of propelling a ball past a goalkeeper from 12 yards out. On Sunday, the virus struck again: Cristiano Ronaldo messed up a penalty for Real Madrid, at Malaga, and it cost his team points.
Ronaldo had looked annoyed earlier in the week, when he undertook media duties for Madrid in Italy ahead of the Champions League meeting with Roma, and defended his recent record of low scoring -- low scoring by his elevated standards, that is -- in away matches. "Name one player who has scored more away goals than me since I came to Spain," he challenged reporters. "No answer? Ok." At which point he left the press conference. Next night he scored his 12th away goal of the season to usher Madrid to a 2-0 win.
On Sunday he then scored his 13th away goal, across competitions, of the season, to give Madrid the lead against Malaga. So far, so Cristiano: Defiant, belligerent. But 10 minutes before half-time, he had a chance, via a penalty, to put Madrid clear at 2-0 up. But his spot-kick was directed too close to Carlos Kameni, the Malaga goalkeeper. Kameni was on good form all afternoon, and was hardly troubled by the short step and dive to his left that he needed to stop Ronaldo's shot.
That was the 99th penalty of Ronaldo's career. He tends to be better at them than Messi, his great rival: this was only his 13th failed spot-kick. But the failure hurt. As a result of the 1-1 draw at Malaga, Ronaldo's Madrid now trail Messi's Barcelona by nine points, not seven, in the table. Atletico Madrid, in second place, have also slipped further behind the leaders, eight points back, after a tight, 0-0 draw with fourth-placed Villarreal, a game of few chances and no penalties, scored or missed. Next weekend, Atletico go across town to Real. It's a Madrid derby that now looks more like a contest for Spain's silver medal, as Barca edge closer to the gold.