Barcelona boss Enrique 'privileged' to have Messi by his side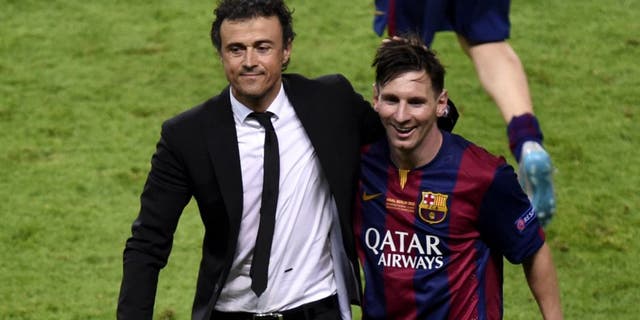 Luis Enrique described Lionel Messi as a "privilege" after the Barcelona forward scored the 300th and 301st league goals of his career on Wednesday evening.
The five-time Ballon d'Or winner became the first player to reach 300 La Liga goals after his brace in a 3-1 victory over Sporting Gijon helped Barca go six points clear at the top of the table.
Messi's league tally now reads 301 league goals in 335 appearances, and Enrique paid tribute to his captain after the game.
"To be able to count on Leo is always a privilege no matter how the opponent plays," Enrique said.
Barcelona took control of the title race with the win at El Molinon, extending their lead over Atletico Madrid to six points and over Real Madrid to seven.
Enrique admitted they are in a strong position to win their sixth league title in eight years, and second in as many seasons.
"I am optimistic in any situation and this is a favourable one," he added. "But that doesn't mean anything because we all know that when the final games of the season approach, especially the last 10, the teams in trouble begin to win games and it becomes very difficult to take the points.
"We are where we want to be and we depend on ourselves."
Luis Suarez scored Barca's third to stretch his lead over Cristiano Ronaldo to three goals in the race for the Pichichi, but the goal came shortly after the striker missed a penalty.
The league leaders have missed eight of their last 16 from the spot, with Messi, Suarez and Neymar all guilty, although Enrique is not concerned.
"We want to improve in that aspect, but those that miss them are the ones that take the responsibility to hit them," he continued. "We have confidence in Leo, Luis and Ney. They are great penalty takers."