Barack Obama tells Jerry Seinfeld being president is a lot like playing football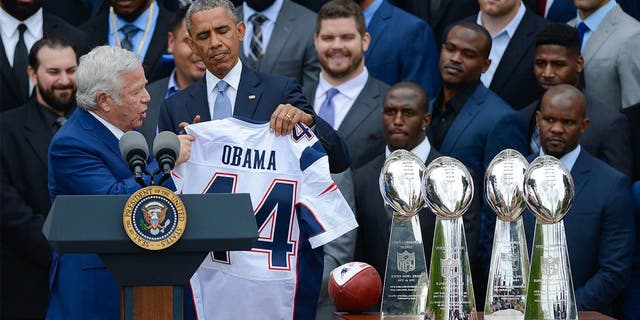 President Barack Obama was Jerry Seinfeld's first guest to kick off another season of "Comedians in Cars Getting Coffee," which went online Wednesday.
Seinfeld drives Obama around the White House grounds in a classic 1963 silver blue Corvette -- the president also takes a turn behind the wheel -- and though they don't follow the usual routine of going out for coffee, they do chat about a number of topics, including underwear, the yuckiness of playing golf with Larry David (globs of sunscreen) and chowing down on nachos.
At one point, Seinfeld asks Obama to compare being president to a game. "Is it chess? Is it liar's poker?" Seinfeld says.
Obama instead picks football.
"Because a lot of players," Obama says (via The Washington Post). "A lot of specialization. A lot of hitting. ... A lot of attrition. But then every once in a while you'll see an opening. You hit the line, you get 1 yard. You try a play, you get sacked, now it's like third-and-15. But every once in a while -- you have to punt a lot -- but every once in a while you'll see a hole and then there's open field."
(Watch the entire episode here.)
By the way, though Seinfeld was definitely stretching the definition of "comedian" in having Obama as a guest -- which the host acknowledges, then justifies with a clip of the president telling a joke at the White House Correspondents Dinner -- keep in mind that Seinfeld also had Sarah Jessica Parker in one episode.