Bandy, Pina quite the catch for Brewers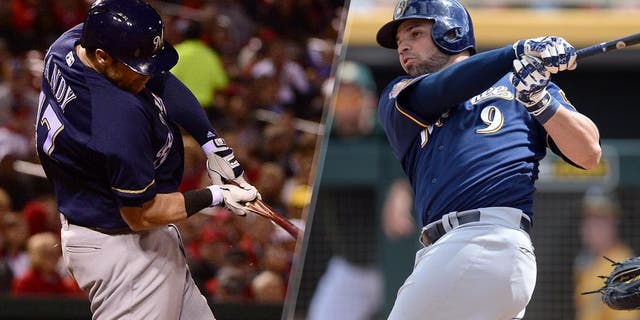 One of the questions this offseason was who was going to catch for the Milwaukee Brewers this season?
After all, Jonathan Lucroy had been dealt at midseason and Martin Maldonado was shipped off in December. Milwaukee got Jett Bandy in return, but he had hit just .237 in 72 games with the Angels from 2015-16.
Here were over a month into the season and it turns out maybe that shouldn't have been a concern after all.
Bandy and Manny Pina, who entered the season having played 793 games in the minors and just 38 in the majors, are handling themselves just fine, thank you, especially at the plate.
The pair have a combined OPS (on-base percentage + slugging percentage) of .934, which is the highest in the majors leagues this season for a team's catchers. No one else is over .900, with Detroit next at .879. The next-highest in the National League is Philadelphia, at .817.
Entering this season, only eight catchers in Brewers history finished with an OPS of .900 or better -- and six of those had 46 or fewer plate appearances. Milwaukee certainly wouldn't mind if Bandy and Pina maintain their current pace and become Nos. 9 and 10.
BREWERS CATCHERS WITH OPS OF .900+
(Note: Nilsson also had a .936 OPS in 1996 for the Brewers, but is not included here as he appeared in just three innings behind the plate that season, spending the majority of his 123 games played at first base and in the outfield.)
In addition to his hitting, Pina is also throwing out attempted basestealers at a 37.5 percent rate and his catcher's ERA is 3.69, fifth-best in the National League.
Other notes:
-- Since 2015, the Brewers and Pirates have split their 38 matchups with both scoring 153 runs. Milwaukee has a .244 batting average, .319 on-base percentage and 34 home runs in those games while Pittsburgh is at .243, .319 and 35.
-- Milwaukee leads the majors in percentage of hits that go for extra bases at 45.9 percent (112 of 244).
-- Keon Broxton has a five-game hitting streak in which he's raised his batting average from .169 to .234.
Statistics courtesy STATS and baseball-reference.com