Band member creates 'Battle Cry' video to fuel fans of Cardinals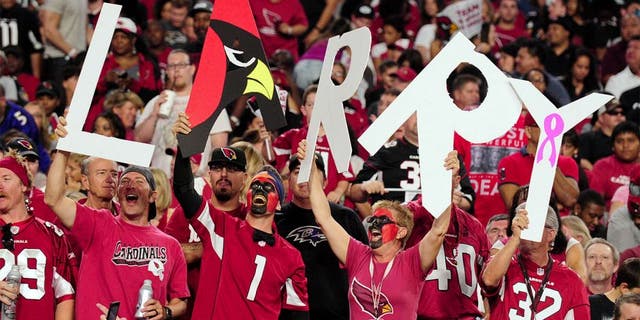 As the Arizona Cardinals prepare for a visit to the Carolina Panthers for Sunday's NFC Championship Game, a member of an Arizona-based national band is doing his best to further inspire the local fans.
Jason DeVore, lead singer of Authority Zero, penned some lyrics and created a video titled ""Bird Gang Battle Cry" for what he hopes will "electrify, fire up, unify, and inspire both the fans and the team they're rooting for."
The 41-second video is spliced with team highlights interspersed with shots of the fans cheering on the Cardinals. DeVore uploaded the video to YouTube on Jan. 15 and it has received nearly 22,000 hits by Thursday morning.
DeVore, who also cited his local roots as among the reasons for creating the video, told Courtney Griffin of station FOX 10 in Phoenix that he needed about two weeks to complete the "Battle Cry" and another full day to produce it. DeVore doesn't appear to have any illusions that it will rival the "Super Bowl Shuffle" - the wildly popular anthem that the Chicago Bears rode to a world championship after the 1985 season.
"Call me crazy, but I hope you enjoy it," said DeVore, whose band has been together 20 years and was part of a 31-city tour over the summer. "If you do and can get behind it please like it, share it, play it a few times over and again, and sing it loud! Hopeful it will stick and soar, but if for anything else, it was a lot of fun to do."