Baltimore Orioles Handed A Double Loss; Swept By Ray And Lose All-Star Manny Machado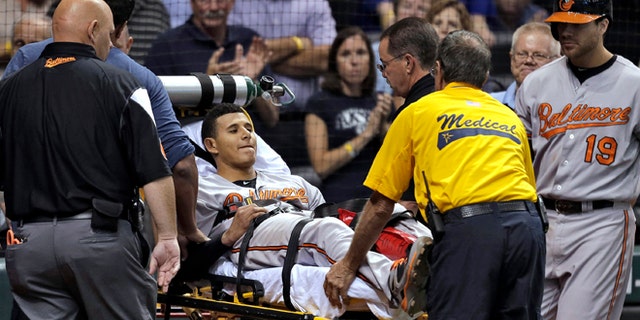 ST. PETERSBURG, Fla. – It was a bad trip down south for the boys from Charm City.
All-Star third baseman Manny Machado went down with a potentially serious leg injury, Alexi Casilla left with a head injury and the Orioles were pushed to the brink of being eliminated from the AL wild-race Monday with a 5-4 loss to the Rays.
"It was a tough four days and it culminated in a lot of bad stuff today," Brian Roberts said. "The losses and the injuries and feeling like we had a good chance coming in to Tampa, to walk out with this kind of feeling is tough for everybody."
James Loney's pinch-hit home run off Tommy Hunter ended the series for the Orioles, who fell five behind the idle Cleveland Indians for the second wild card with six games left to play. Tampa leads the Indians by a game.
Manager Buck Showalter tried to stay positive all weekend but found it difficult after this loss.
"I don't want to say depressing; it probably is," Showalter said. "But more what's going on right now (in the locker room) is teammate to teammate, with two guys going down in the lineup."
Both injuries occurred during the seventh inning. Machado's left leg buckled when he stepped on first base running out an infield single. He was taken off on a stretcher.
"I'm sure we won't get a full diagnosis until we get an MRI back in Baltimore (on Tuesday)," Showalter said while acknowledging that "it certainly doesn't look very promising right now."
Tampa Bay manager Joe Maddon, who had a better view of Machado's collapse, had a more stark analysis.
"It's horrible," Maddon said. "Hate to see that. This young man blows out his knee, possibly, and then this collision in right field. You can see how badly they wanted it, too."
Casilla, playing second base, collided with right fielder Nick Markakis while chasing Wil Myers' two-run single in the bottom of the seventh. Casilla actually caught the ball for what would have been the third out, but couldn't hold onto it when his head struck Markakis' thigh.
"I thought about doing a slide, saw him out of the corner of my eye, tried to pull up and get out of the way," Markakis said. "It was just bang bang, him coming full speed, me coming full speed. It was like trying to stop a train on a dime. I'm not a doctor or anything, but when he was out there, I could have sworn he was knocked out. He was laying there; (Adam Jones) and I were trying to get him to sit still until somebody got out there. He kind of looked dazed and confused."
Casilla finished the inning, but was taken out in the eighth.
"I probably should have taken him out but I didn't know what he had hit until between innings," Showalter said. "He's going to get a CAT scan and stay overnight here, not travel. He got a little foggy-headed between innings and had to come out of there."
Loney batted for Sean Rodriguez and lined a 0-1 pitch from Hunter (6-5) down the right field line to win it.
Joel Peralta (3-8) pitched a perfect ninth for the Rays, who have won nine of 12.
Chris Davis hit his major league-best 52nd homer for Baltimore.
Machado singled for the Orioles' first hit leading off the fourth and Davis followed with his two-run shot off Chris Archer as part of a three-run inning that put Baltimore ahead 3-1. J.J. Hardy had an RBI single.
Going back to the final 11 innings of the Orioles' 5-4, 18-inning loss to the Rays Friday night, Baltimore had just two runs and 10 hits over 32 innings before getting the three runs on four hits in the fourth.
Archer gave up four runs and five hits in 4 1-3 innings. Baltimore left-hander Wei-Yin Chen also went 4 1-3 innings, allowing two runs and six hits.
Based on reporting by The Associated Press.
Follow us on twitter.com/foxnewslatino
Like us at facebook.com/foxnewslatino