Ballard has 22 points, 15 rebounds as LSU upsets West Virginia 76-67 in NCAA tournament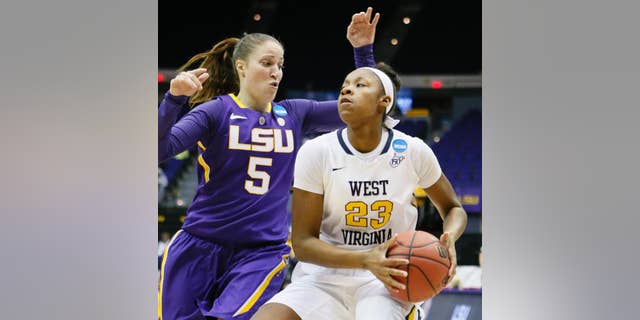 BATON ROUGE, La. – Danielle Ballard had 22 points and 15 rebounds, and seventh-seeded LSU overcame a late seven-point deficit, as well as foul trouble, to upset No. 2 seed West Virgina 76-67 in the second round of the NCAA tournament on Tuesday night.
Playing the last 12 minutes with four fouls, Shanece McKiney had 13 points, seven rebounds and five blocks, while DaShawn Harden added 12 points for LSU (21-12), which advanced to the Sweet 16 for a second straight season — both times with a second-round upset on its home court.
Holding a 63-56 lead 5:05 left, West Virginia was on the verge of winning the first second-round NCAA game in program history, but LSU went on a decisive 16-2 run. Asya Bussie had 21 points and Bria Holmes 12 for West Virginia (30-5), which fell to 0-8 all time in second-round games.