Balanced Suns shoot way past Cousins-less Kings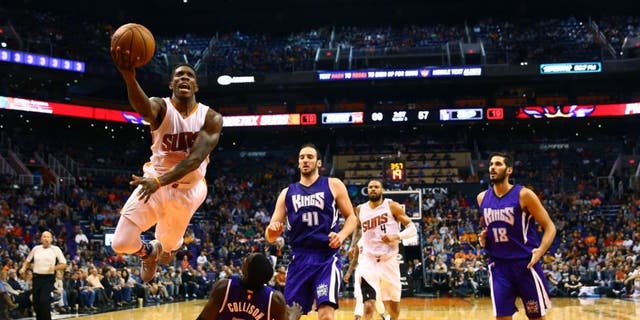 PHOENIX -- The Suns didn't always take care of business against the teams they were supposed to beat the past two seasons.
That hasn't been the case early on this season and it continued Wednesday night against a struggling Kings team without its best player.
The Suns responded to a third-quarter pep talk and ran away from the DeMarcus Cousins-less Kings for a 118-97 victory at Talking Stick Resort Arena. Eric Bledsoe and Brandon Knight each took their turn controlling the game, and the Suns scored 11 straight as part of a 26-14 run to pull away.
"It's easy to come out and play to the level of your competition," Bledsoe said. "We just tried to come out and dominate, and I thought we did a great job of that."
The Suns sank 14 3-pointers and shot 61 percent from beyond the arc -- easily their best long-range shooting performance of the season -- to fulfill coach Jeff Hornacek's prophecy from earlier in the day on what his team can be if it knocks down open shots.
Bledsoe hit two 3s as part of an eight-point first quarter in which the Suns (3-2) made seven of their first 10 shots. P.J. Tucker and Knight each hit three 3s and Ronnie Price added a pair in the fourth.
"If we can get 3s to drop, that will be big for us," said Knight, who had 12 of his 17 points in the third -- after he went scoreless on five shots in the first half. "We're going to be a team that gets out in transition and get some easy ones. So if we can get some 3s and shoot a high percentage, that's what we want. We got guys who can knock down shots. Sometimes the ball doesn't fall but a lot of time it will."
Bledsoe finished with 19 points and eight assists, while Knight added seven assist as the Suns assisted on 27 of their 45 field goals.
"If you can shoot that percentage you'll be pretty good that game," Hornacek said. "We've been having the looks, we just haven't been making them. It was good to see the guys knock down shots.
"Bled was great in the beginning of the game, then Brandon was great that one stretch on the third quarter. Then Alex (Len) had that really good stretch. P.J. had a good stretch."
The Suns finished with six players in double figures -- Len had 16, Warren 13, Markieff Morris 11 and Tucker 10 -- and Tyson Chandler grabbed 11 rebounds.
The Kings (1-4) were without Cousins because of a right Achilles strain and the Suns took advantage.
"Brandon Knight got hot as hell and made some 3s and got it back up," Kings coach George Karl said of the Suns' run after Sacramento tied the game at 55. "We didn't have enough energy or defense to figure out how to win the game. Defensively, right after that, we fell apart."