Baker, Randall lead Wildcats past Colorado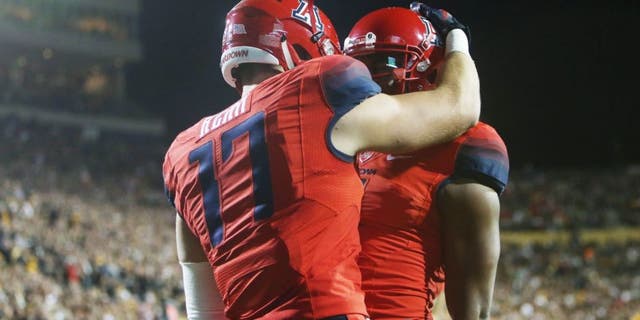 NEWYou can now listen to Fox News articles!
BOULDER, Colo. -- Jared Baker was stealthy in powering Arizona past Colorado 38-31 Saturday night.
The senior backup filling in for Nick Wilson, who's out with a foot injury, rushed for a career-high 207 yards and scored untouched on runs of 79 and 45 yards. Then, he was uncovered when he hauled in a 25-yard pass from Anu Solomon to break a 24-all tie in the fourth quarter.
That play capped a 94-yard drive and followed a 97-yard drive sparked by backup QB Jerrard Randall, who came in and reeled off three long runs himself before handing off to Baker, who tied it at 24 with his 45-yard run up the middle.
Randall led the Wildcats (5-2, 2-2 Pac-12) out of the shadow of his own end zone a second time but was shaken up on a 7-yard keeper to the Colorado 25. Solomon, who was ineffective over the second and third quarters, re-entered the game and found Baker wide open with 9:17 remaining for the senior running back's third TD.
"I felt a little nervous when I was so open," Baker said, "and I had to catch that."
Rodriguez said he was proud of the way Solomon was able to come back in and make that big play.
"Anu's still an outstanding quarterback," Wildcats coach Rich Rodriguez said. "... He didn't hang his head or nothing like that."
Randall ran 11 times for 81 yards and scored from a yard out with 4:40 left to make it 38-24.
"He gave us a lift," Rodriguez said. "He drives me crazy sometimes, because that last touchdown was supposed to be a hand-off and he kept it. I told him explicitly to hand off. When I looked into the end zone and Jared was in the end zone without the ball, I was like, `Did he fumble it?' No, here it was Jerrard.
"I tried to be happy, but I couldn't be happy. But everybody else was."
Randall's TD proved the difference when Sefo Liufau found Shay Fields over the middle for a 30-yard touchdown with 2:19 remaining. Fields sustained a high ankle sprain on the play.
The Buffs (3-4, 0-3), who matched a school record with their 14th consecutive loss in league play, tried an onside kick but Arizona safety Will Parks recovered. They held on fourth down but Arizona downed the punt at the 6 and Colorado couldn't get very far with just 38 seconds left.
"Going back in that locker room with those guys it hurts to look in their eyes after a game like that," Colorado coach Mike MacIntyre said. "I told them we have to find a way to reach down in our soul, our mind our heart, our spirit and find a way to take another step."
The teams were tied at 17 after a first half that featured two quick scores.
Baker burst through a big hole, shot past a surprised secondary and outran defenders for a 79-yard touchdown that gave Arizona a quick 10-0 lead less than five minutes in. But the Buffs replied with a 72-yard touchdown strike from Liufau to Fields moments later to keep it close.
Baker, a senior, topped his career-high of 123 yards rushing set just last week in a rout of Oregon State. He averaged 9 yards on his 23 carries.
"It was great," Randall said. "I wish I had a game like that. You got to share it. I'm proud of him. He did what he was supposed to do. I like the way he ran the ball."
It's just that he kept that fourth TD for himself.