Baker Mayfield doesn't care about his haters, is ready to bring salvation to Oklahoma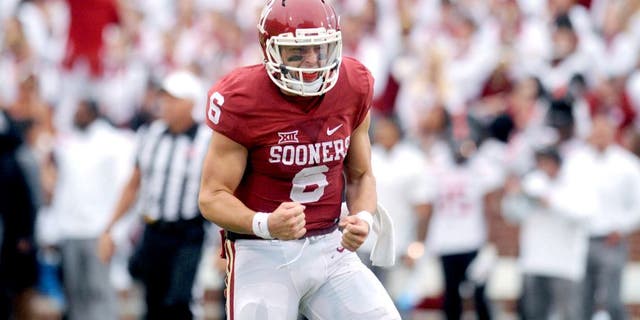 FORT LAUDERDALE --€" Baker Mayfield didn't win Big 12 Offensive Player of the Year by being timid. And the guy who came to Norman as a walk-on transfer and promptly led the Sooners to the College Football Playoff sure wasn't meek in his first media appearance Monday.
The former overlooked recruit from a Texas prep powerhouse, Mayfield seems to relish any snubs -- real or perceived -- and use them as fuel. Monday's 30-minute press conference was an interesting window into that drive. Whereas Clemson defensive coordinator Brent Venables said his Tigers haven't watched any of last year's 40-6 thrashing of the Sooners in the Russell Athletic Bowl because this year's Oklahoma has a completely different scheme and is a very different animal, Mayfield says he and Oklahoma players watch the game often. But not the All-22 coaches version of the film that players and coaches use. Instead, he prefers the broadcast version, so they can hear what the announcers were saying in that rout.
"We listen to the commentating," he said. "It motivates us ... how disrespectful it was. They said it was like the scout team versus the varsity, and that it was embarrassing for coach (Bob) Stoops."
Mayfield also was asking about the most disappointing aspect of his college recruitment and brought up TCU, where he initially appeared to be headed.
"They told me they were going to offer me a scholarship and kind of drug it out," he said. "I told other schools that I wasn't interested because I thought I was going there. I truly believed they were going to offer me because they told me that. They disappointed (me). They kinda hung me out to dry right before signing day."
And Mayfield's thoughts on TCU coach Gary Patterson? "He doesn't like me and I have no comment about that."
Well, actually Mayfield did have a comment about that, and other things.
On Monday, he had a lot of interesting comments about his contentious departure from Texas Tech, where he started his collegiate career in 2013 before transferring to Oklahoma in 2014. I asked him what he thought about a recent column written in the Lubbock Avalanche-Journal titled, "Mayfield needs to quit playing politics and just play."
Mayfield said the writer, Don Williams, is "absolutely ignorant."
"Some people there (in Lubbock), they're still hung up on that," Mayfield continued. "I've moved on. (Texas Tech) coach (Kliff) Kingsbury has moved on. The players, everybody's moved on, besides the (Avalanche) Journal people. It's ridiculous. It's been over two years now."
Mayfield clearly has moved on. He's thriving, and while he may not be "hung up" on stuff like that Journal column, he's obviously kept tabs, and it seems to only make the chip on his shoulder that much bigger.
"It's always gonna be there and it will probably never leave," Mayfield said, adding that it's just the kind of player he is and the motivation he feels like he needs. "Coach (Lincoln) Riley says it all the time: We play better with an edge."
Whatever it is, it's working for Mayfield. He's thrown 35 TDs and just five INTs and completed 69 percent of his passes. He also ran for 420 yards and seven more touchdowns.
"He is a great player," said Clemson defensive lineman D.J. Reader. "He really likes to compete, and he's a leader and his team feeds off his energy."