Bagwell, Raines and Rodriguez elected to Baseball Hall of Fame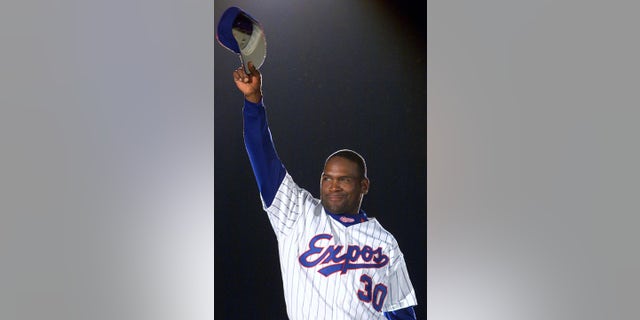 NEWYou can now listen to Fox News articles!
The ranks of baseball immortals grew by three Wednesday when Jeff Bagwell, Tim Raines, and Ivan Rodriguez were voted into the Baseball Hall of Fame by the Baseball Writers' Association of America.
Bagwell, a four-time All-Star who spent his entire career with the Houston Astros, garnered 86.2 percent of the 442 ballots cast by members of the BBWAA. Candidates required 332 votes for induction. Bagwell fell 15 votes short last year, when Ken Griffey Jr. and Mike Piazza were elected.
Raines, who received 86 percent of the writers' vote in his 10th and final year on the Hall of Fame ballot, was the beneficiary of a long campaign by sabermetrically inclined fans and writers who pointed to his .385 career on-base percentage.
Raines, who finished his career fifth on the all-time list in stolen bases and won the 1986 National League batting title, received just 24.3 percent of the vote in his first ballot appearance in 2008. He jumped from 55 percent in 2015 to 69.8 percent last year.
With his election, Raines joins Andre Dawson and Gary Carter as the only members of the Hall representing the Montreal Expos. Raines spent 13 of 23 big league seasons with the Expos, who left Canada to become the Washington Nationals for the 2005 season.
Rodriguez, a 14-time All-Star acclaimed as one of the greatest catchers of all time, made the cut by just four votes. He hit .296 with 311 homers and 1,332 RBIs, but was the subject of a controversy over performance-enhancing drugs when former Texas Rangers teammate Jose Canseco alleged in a 2005 book that he injected the catcher with steroids. Asked whether he was on the list of players who allegedly tested positive for steroids during baseball's 2003 survey, Rodriguez said in 2009: "Only God knows."

Players will be inducted July 30 during ceremonies at Cooperstown along with former Commissioner Bud Selig and retired Kansas City and Atlanta Braves executive John Schuerholz, both elected last month by a veterans committee.
This year's near-miss player was longtime reliever Trevor Hoffman, who missed out on the Hall of Fame by a mere five votes. Longtime Expos and Angels slugger Vladimir Guerrero was the other candidate who cracked 70 percent of the vote, but fell 15 votes short of the required threshold.
Roger Clemens and Barry Bonds, whose playing careers were also tainted by rumors of steroid use, fell well short with each receiving 54 percent of the writers' vote.
Bonds was indicted on charges he lied to a grand jury in 2003 when he denied using PEDs, but a jury failed to reach a verdict on three counts he made false statements and convicted him on one obstruction of justice count, finding he gave an evasive answer. The conviction was overturned appeal in 2015.

Clemens was acquitted on one count of obstruction of Congress, three counts of making false statements to Congress and two counts of perjury, all stemming from his denials of drug use.
Other notables on the ballot included Edgar Martinez (58.6 percent), Mike Mussina (51.8 percent), Curt Schilling (45 percent), and Manny Ramirez (23.8 percent).
A 12-time All-Star on the ballot for the first time, Ramirez was twice suspended for violating baseball's drug agreement. He helped the Boston Red Sox win World Series titles in 2004 and `07, the first for the franchise since 1918, and hit .312 with 555 home runs and 1,831 RBIs in 19 big league seasons.

This was the final year of eligibility for Lee Smith, who received just 34.2 percent of the vote. Jorge Posada and Magglio Ordonez failed to meet the 5 percent threshold to be on the ballot next year.
Several notable players will join them in the competition for votes in upcoming years: Chipper Jones in 2018, Mariano Rivera and Roy Halladay in 2019, and Derek Jeter in 2020.
The Associated Press contributed to this report.