'Bad Brad' bangs out new track record on way to Dover pole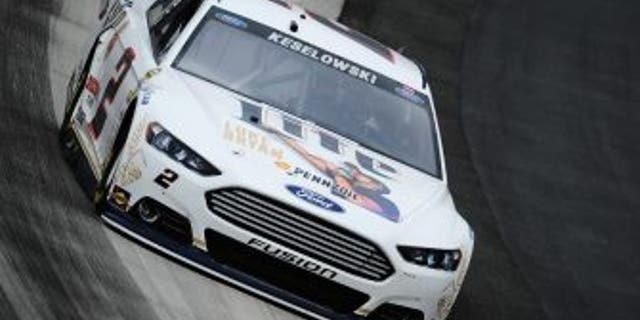 Brad Keselowski timed it perfectly to win the pole for Sunday's FedEx 400 benefitting Autism Speaks at Dover International Speedway, shattering the track qualifying record in the process.
The first driver to hit the track in the second and final round of qualifying, Keselowski wheeled his No. 2 Team Penske Ford to a track record lap of 164.444 miles per hour to claim his second pole of the year and the fifth of his career in 174 NASCAR Sprint Cup Series starts. He has qualified on the front row eight times this season.
"We had a great car all day and just wanted to get going," Keselowski said of his decision to be the first car on the track in the final round. And it paid off for him, as he had a little cloud cover that might have given him just a little extra grip.
Kyle Busch was second in his Joe Gibbs Racing Toyota at 163.785 miles per hour. "We just got beat by speed there," Busch said. "But the car's been really fast all weekend, we're real happy with it in race trim and everything, so I think we'll be good for the race on Sunday."
Behind Busch it was Keselowski's Penske teammate Joey Logano, six-time Sprint Cup champion Jimmie Johnson in a Hendrick Motorsports Chevrolet and rookie Kyle Larson out of the Chip Ganassi stable.
The second five consisted of Denny Hamlin in a second JGR Toyota, Jeff Gordon's Hendrick Chevy, Kevin Harvick in a Stewart-Haas Racing Chevy and the Toyotas of Michael Waltrip Racing teammates Brian Vickers and Clint Bowyer.
The qualifying format was two rounds: The first 30-minute round set positions 13-43, with the top 12 spots set in the second, 10-minute session.
Dale Earnhardt Jr. was 13th in Round 1, failing to advance to the final round by just 0.002 seconds.
Other drivers failing to get out of the first round included Ryan Newman (14th), Tony Stewart (20th), Matt Kenseth (21st), Danica Patrick (28th) and Carl Edwards (29th).
Patrick said she experimented with her attack during qualifying, but it didn't work.
"Hey, it's alright," said Patrick. "We've got all kinds of time on Sunday."
With only 43 cars entered in the race, there were no DNQs on Friday.