Backlash aside, Cowboys QB Dak Prescott defends position on standing for anthem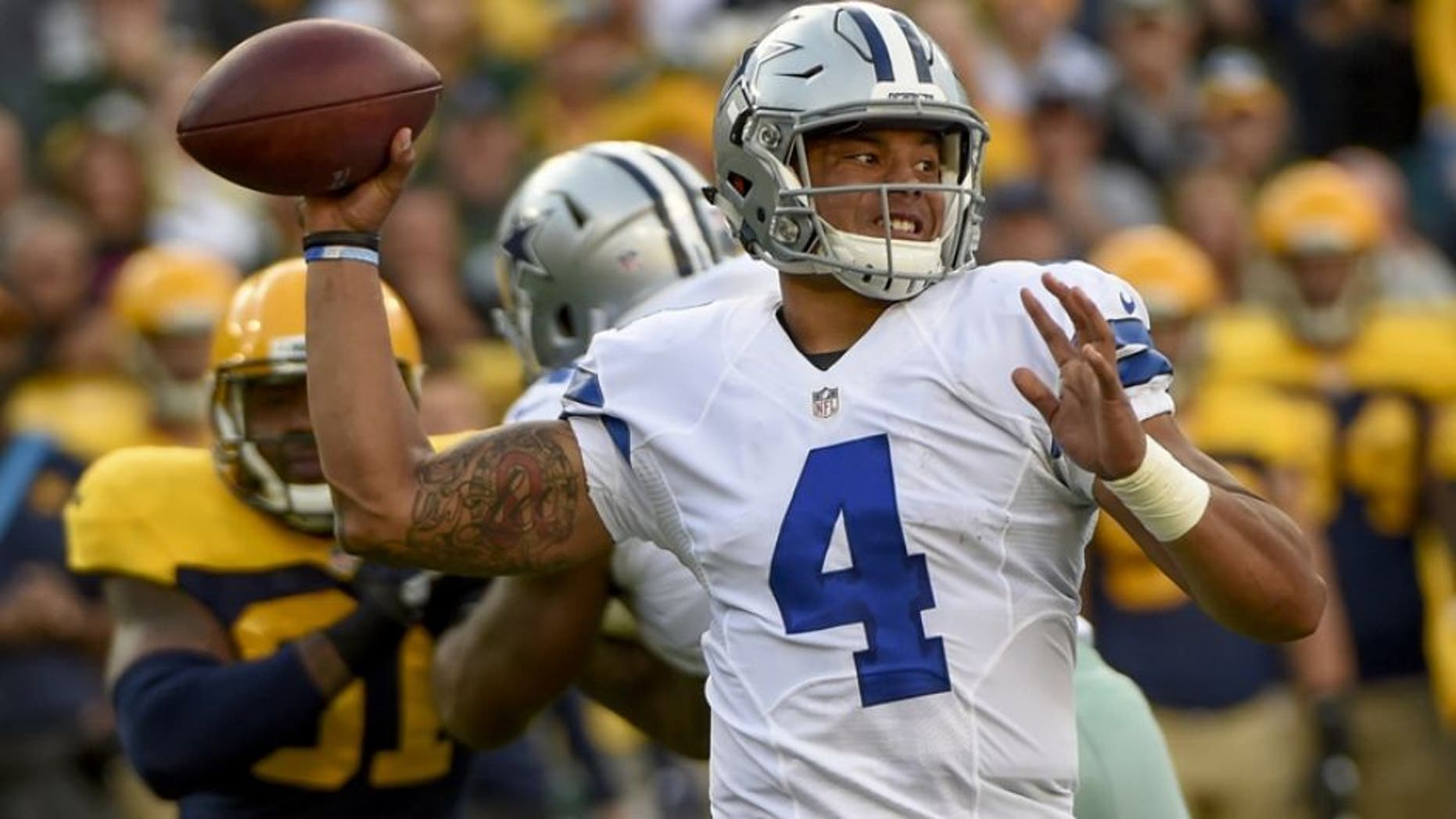 Dallas Cowboys quarterback Dak Prescott said he doesn't regret saying it's not the right time or place for NFL players to kneel in protest during the national anthem — after being pilloried as a sellout on social media.
"I am not oblivious to it," Prescott told the Fort Worth Star-Telegram after practice on Tuesday. "You get on social media, you see it. It doesn't bother me. I said what I said. You have an opinion. Everyone else has an opinion. They are entitled to it as well. I accepted what they said and respect it. They should respect mine."
The athlete added: "I think there was a little misunderstanding of the fact of what I believe in. I never said I didn't believe in social injustice and things that were going on. I just said I didn't think that the national anthem was the time. It's two minutes out of our day that we could also be spending embracing what our country should be and what our country is going to be one day that we know that it's not right now. That is the sad part about it. That it's not."
Prescott's stance left him scorned online; journalist Carron J. Phillips, for instance, said in one tweet, "He's happy being a lemonade serving house negro."
Prescott, however, said he's ignoring the backlash: "I respect everybody. And power to the people that kneel. That is what they believe in and they should be able to kneel. For me, the game of football has been such a peace. It's a moment for me to be at peace and think about all the great things our country does have."
More than anything, Prescott said he is pressing for new solutions, and for "doing something different."
"I am for the action," Prescott said. "That is what I mean, my taking that next step rather than just kneeling or standing. I don't think kneeling or standing is creating a solution for us."
The NFL and its player association recently issued a joint statement saying that "no new rules" related to anthem protests would be enforced while the two sides try to find "a solution" on the issue. The policy on the table would have given players the option of staying in their team's locker room during the anthem, while also allowing teams to discipline players who took a knee or sat during its playing.
The policy comes in wake of the protests that were started by former San Francisco 49ers quarterback Colin Kaepernick. During the 2016-17 season, Kaepernick started kneeling during the anthem as part of a protest against police brutality. Amid fierce debate and criticism from President Trump, the league moved to pay nearly $100 million to social justice causes supported by some players, despite critics' claims that this was meant purely to appease activist athletes.
Last week, Cowboys owner Jerry Jones said that his team's players would be required to stand on the field for the anthem before games this season.
Prescott, who is entering his third season with the Cowboys, said Friday that he "never" protests during the playing of the national anthem, noting that for him, that's a time for reflection.
"I don't think that's the time or the venue to do so," he said.