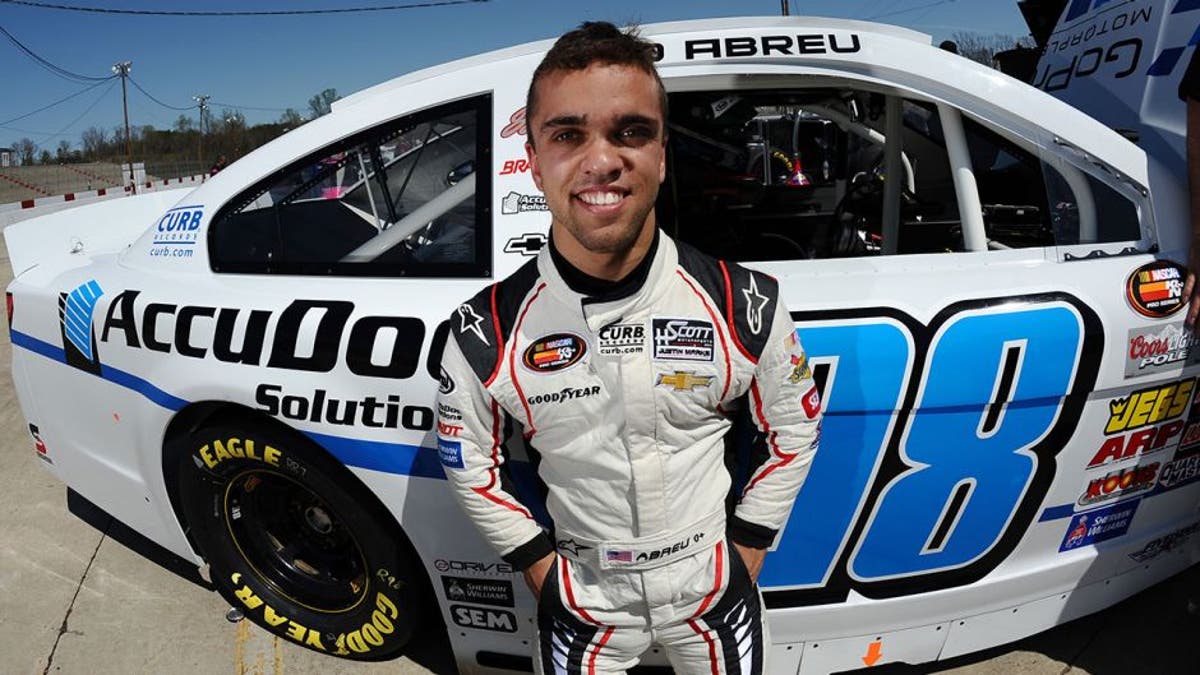 The last few days have been very kind to NASCAR Next member Rico Abreu. The 4-feet, 4-inch tall driver landed a full-time NASCAR Camping World Truck Series ride with ThorSport Racing on Friday, and Saturday night he scored a big win in one of the most prestigious midget car races in the country.
Driving the No. 97 owned by Keith Kunz, Abreu had a hard-fought battle with midget car ace Bryan Clauson and Zach Daum for the top spot. When a caution flew with 12 laps remaining, Abreu got the opportunity he was looking for. Running around the high side of the track, Abreu took the lead with 10 laps to go and never looked back.
Taking the checkered flag, Abreu celebrated the victory win an impressive series of donuts on the dirt racing surface before climbing from the car.
Abreu's win was certainly a popular one among the crowd and his fellow racers, many of whom took to Twitter to offer their congratulations.
Clauson, who started on the pole, was able to finish in the runner-up spot, while Daum, Jerry Coons Jr. and NASCAR Sprint Cup Series driver Kyle Larson rounded out the top five.
Abreu and Larson were not the only NASCAR regulars to hit the dirt at the Tulsa Expo Raceway in hopes of winning the Golden Driller trophy.
Ricky Stenhouse Jr. won B-Feature 2 to advance to the main event, but finished the A-Feature in the 16th spot. Stenhouse was fully supported by girlfriend and fellow Sprint Cup Series driver Danica Patrick. The Stewart-Haas Racing driver was even spotted selling merchandise in the crowd.
Hendrick Motorsports' Kasey Kahne finished the main event in the 13th spot after starting 10th. Earlier in the weekend, Kahne provided an inside look of what it is like to race around the Tulsa Expo Raceway.
Camping World Truck Series and XFINITY Series driver Chad Boat missed out on advancing to the main event after a DNF resulted in a 18th-place finish in the B-Feature 1. Tanner Berryhill finished one spot behind the transfer position in the C-Feature 1. Justin Allgaier finished second in the D-Feature 2 to advance to the C-Feature, but a DNF in that heat race ended his Chili Bowl Nationals early.
Longtime open-wheel dirt racer and three-time Sprint Cup Series champion Tony Stewart was also on hand throughout the event. While his role was maintaining and preparing the racing surface, Stewart made headlines Friday night when he had an altercation with an off-duty Tulsa County Sheriff's Deputy in the grandstands. The Sheriff's Office is reportedly investigating the incident.