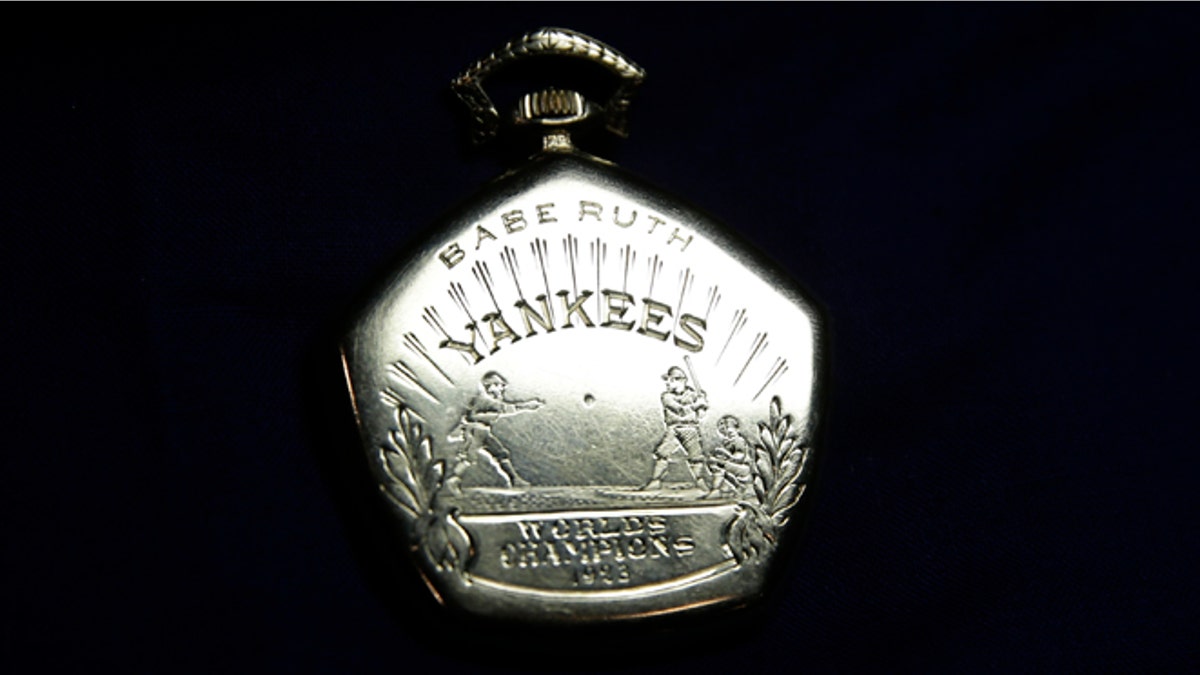 NEW YORK – Babe Ruth's 1923 World Series championship pocket watch, for decades thought to be lost to history, is coming to a New York City auction, where it's expected to fetch at least $750,000.
Ruth batted .368 and hit three homers in the 1923 World Series as the Yankees won the championship by beating the New York Giants in six games. It was a pivotal year for the franchise, as it moved into Yankee Stadium and won its first of 27 World Series championships.
The pentagonal gold timepiece is being sold at Heritage Auction's Feb. 22 sale.
"It was the beginning of what's become the most dominant dynasty in American sports," said Chris Ivy, director of sports auctions at the Dallas-based auction house. "It changed the culture and Babe Ruth's the ultimate leader of that team."
At the time, winning players got watches, which later were replaced by the still-standard rings.
"No one knew where the piece had been. No one has ever seen it for public sale or public auction," Ivy said. "The fact that there was no news about it for so many decades, it was just thought that at some point it had been lost to time."
The 14-karat gold timepiece remained with Ruth until shortly before his death from cancer in 1948.
He asked his close friend, Charles Schwefel, what he would like from his collection. The Manhattan hotelier, who shared Ruth's passion for helping disadvantaged youth, asked for the watch.
Schwefel kept it for two years until his wife gave it to Lewis Fern, her nephew and Ruth's frequent golf caddy. It remained with Fern for decades until it was sold privately in 1988 to the current owner, a major East Coast sports collector who kept it in a safe deposit box.
"A lot of items from that era were lost or discarded, so the fact that the watch reappeared ... obviously is of historical significance," said Steve Costello, executive vice president of Steiner Sports collectibles in New Rochelle, N.Y.
The present owner, who wished to remain anonymous, declined to be interviewed. He said through Heritage that he acquired the watch for around $200,000 and was parting with it now to help fund charitable organizations important to him.
Ivy said bidding for the watch could easily reach seven figures, "being that it's the first championship hardware that Ruth won."
What makes the watch even more special is that Ruth had his name engraved on it and added a special inscription, "To My Pal Charles Schwefel."
The engravings "really add to the provenance," said Costello. "There aren't that many things of that nature being done any more. ... How many people in today's society have a pocket watch?"
The Gruen Verithin watch also is engraved with a pitcher, hitter, catcher, a ball in flight and the words "Yankees" and "World Champions 1923."
Babe Ruth's championship ring from the 1927 World Series, the Murderers' Row team that swept Pittsburgh, sold at auction for $250,000 in the 1990s. In today's market, "there's no question it would be a seven-figure piece," Costello said.
"Whenever you get something that's one-of-a-kind item from Babe Ruth, the sky's the limit," he said.