Babe Ruth made his major league debut 100 years ago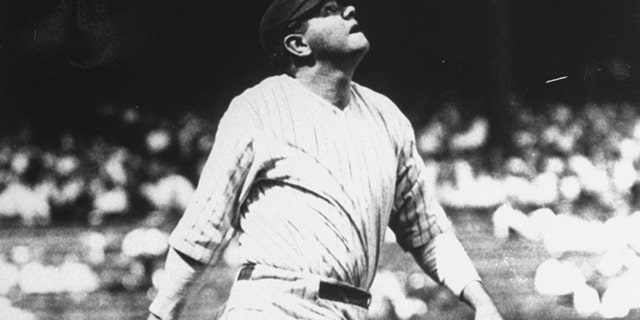 NEWYou can now listen to Fox News articles!
George Herman "Babe" Ruth played his first Major League Baseball game 100 years ago Friday, marking the beginning of a legendary career and legacy that lasted decades.
One hundred years after Ruth took to the Fenway Park mound and tossed seven innings against the Cleveland Naps, he is still known to any Pee Wee league player trying to break in a glove today as simply, "The Babe."
Ruth, who was 19 and, according to one teammate, looked like a "big overgrown pea" at the start of the game, went on to play for 22 years, 15 of those with the New York Yankees. He amassed 714 home runs and 1,330 strikeouts.
He jokingly rationalized the strike percentage by saying, "Every strike brings me closer to the next home run."
One of his most memorable home runs came during the 1932 World Series at Chicago's Wrigley Field, when he appeared to point to the outfield stands to call his shot.
Ed Sherman, the author of "Babe Ruth's Called Shot: The Myth and Mystery of Baseball's Greatest Home Run," writes about whether Ruth was indeed predicting a homer, or pointing at players in the Cubs dugout who were apparently yelling things at him.
"Part of the beauty of the whole story is that we'll never have a definitive answer," Sherman told The Chicago Tribune. "But if you look at the video, there's something there. Was he pointing to center? Did he say, 'I'm going to hit a home run here and now'? I can tell you one thing: Ruth was challenged, and he responded to the challenge, and the World Series effectively ended right there. It just took the life out of the Cubs. They were done."
Ruth was known for his larger-than-life personality.
Jim Reisler, the author of "The Best Game Ever," wrote in The New York Times that Ruth could visit a "ballpark, a brothel and an orphanage in a single day," and pointed out that when he met President Warren Harding, he said, "Hot as hell, ain't it Prez?"
Ruth did not resemble today's athletes who look like they live at the gym and sustain themselves on protein shakes. He looked like the affable uncle who just got up off the couch, but could hit the cover off a fastball.
Ruth eventually died in 1948 at 53 after a bout with cancer. Reisler pointed out that newspapers across the country gave the story front-page treatment.
But the legend of the 19-year-old kid who, according to John Thorn, a MLB historian, "had a boundless appetite for everything," will continue wherever there's a mound and a home run fence.