Avery takes Zuccarello's lineup spot for Game 2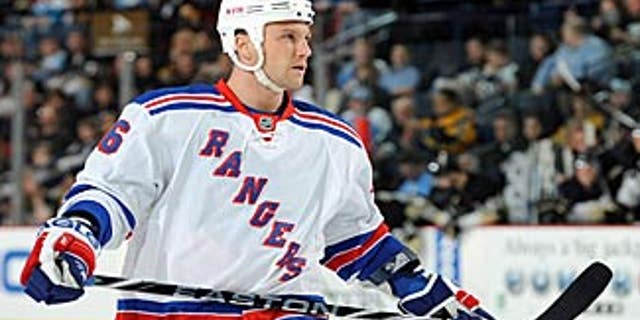 WASHINGTON -- After struggling with puck possession in Game 1, the New York Rangers are turning to Sean Avery to help remedy that problem in Game 2.
Coach John Tortorella announced Friday morning that Avery would replace Mats Zuccarello in the lineup for Game 2 of the Rangers' Eastern Conference quarterfinal series with the Washington Capitals. Zuccarello played only 7:34 in Game 1 and had just two total shifts in the third period and overtime.
"I think at times when Sean is consistent with his play, he can add some forechecking to us," Tortorella said. "Hopefully he'll give us an opportunity to forecheck, to stay disciplined, and add some energy to our lineup."
Avery was a healthy scratch in six of the Rangers' final eight regular season games and saw his ice time diminish when he was in the lineup, but Tortorella is turning him to him now. The team lacked consistent offensive-zone pressure for most of Game 1, and Avery's ability to control the puck below the goal line could help in that department.
Avery, who had 3 goals and 21 assists in 76 regular-season games, could also help rattle Capitals goaltender Michal Neuvirth, something the pesky winger has shown a penchant for in the past. Neuvirth made 24 saves in Game 1 and rarely had to fight through traffic to stop a shot.
As for Zuccarello, Tortorella felt the winger's 5-foot-7, 174-pound frame and lack of experience were working against him in his first postseason game. The 22-year-old Zuccarello had 6 goals and 17 assists in 42 games in his first season after winning the MVP award in the Swedish Elite League last season.
When he wasn't with the Rangers, he was toiling in the minors with the Rangers' AHL affiliate in Hartford. Wednesday's Game 1 was Zuccarello's 79th of the season, 24 more than he played with Modo last season.
"Whether he can handle the size and overall consistency of playoff hockey, I'm not sure," Tortorella said. "It's been a long year for him, as far as up and down, learning a new game in North America, the smaller rink, playing in the minors where everybody is chasing you around. Through some experience, and he did get a little bit the other night … again, we don't know. It's still an open book with him as far as where he sits as a National Hockey League player."
Tortorella said there would no other lineup changes.
Follow Dave Lozo on Twitter: @DaveLozo