Avenging win: Andre Berto doesn't miss, stops Victor Ortiz in 4th round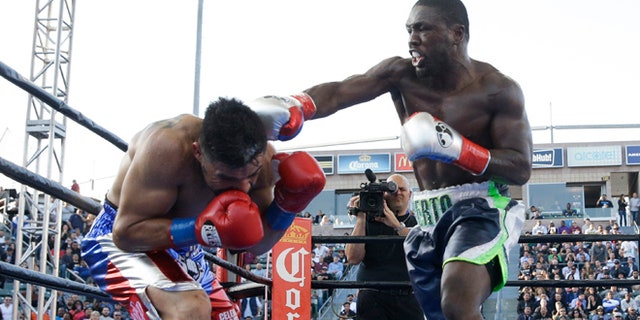 NEWYou can now listen to Fox News articles!
CARSON, Calif. (AP) – Andre Berto spent five years regretting his inability to land the punches that would have finished off Victor Ortiz during his first career defeat.
With a second shot at his rival, Berto didn't miss.
Berto stopped Ortiz with two knockdowns in the fourth round Saturday night, avenging his loss in the welterweight stars' first bout five years ago.
Berto (31-4, 24 KOs) rebounded ferociously after Ortiz knocked him down in the second round of their rematch. Berto floored Ortiz the first time with a right uppercut, and Ortiz went down again moments later from a series of big punches.
"I told myself, 'I'm not going to let him recover from this one,'" said Berto, who knocked down Ortiz twice in their first bout. "That was my mistake in the first fight, letting him get back up."
Ortiz crawled back to his feet and barely beat the count, but didn't respond when asked if he wanted to continue. Referee Jack Reiss stopped the bout 1:14 into the fourth.
Berto returned to the ring in style after his one-sided loss to Floyd Mayweather Jr. last year in the pound-for-pound champion's final fight. Berto lost his WBC welterweight title and his unbeaten record to Ortiz in their 2011 bout, and he went 3-3 in his six fights since.
"I think it's one of the most satisfying wins of my career, just because he gave me my first loss, and it's been looming for years," Berto said. "I just felt like it was something I had to do, and it was something the fans wanted as well."
Ortiz and Berto knocked each other down twice in their wild first fight in 2011, each flooring the other in the sixth round alone. Ortiz hung on for a decision despite losing a point for hitting behind the head in one of the most entertaining high-level fights of this decade.
The loss was the fourth in six fights for Ortiz (31-6-2), who has struggled with injuries and inconsistent performances ever since his title-winning victory over Berto. After getting booed in the ring, Ortiz was grabbed by a fan on his way to the dressing room, setting off a brief fracas in the crowd of 7,760 at StubHub Center's famed outdoor ring south of downtown Los Angeles.
"It's one of those punches that you don't see coming, you know?" Ortiz said about the uppercut that led to the first knockdown. "He is not a guy that hits soft. Every punch he throws is 100 miles an hour so he is one heck of a champ for a reason."
Still, Ortiz was booed by fans who have a tumultuous relationship with the former champion fighting out of Ventura, California. Ortiz has been criticized throughout his career for the endings to his fights, particularly losses to Marcos Maidana and Josesito Lopez in which fans hoped he would continue.
Berto might have earned a shot later this year at Danny Garcia, the WBC welterweight champion who watched from ringside. Both fighters are represented by Premier Boxing Champions.
"I think it was a great fight," Garcia said. "(Berto) is a great potential matchup, and it's an easy fight to make. It's all about the handlers now. As far as me, I'll fight anybody in the division."
Thomas Williams Jr. also stopped Edwin Rodriguez in the second round of a light heavyweight bout. Earlier, featherweight Jorge Lara remained unbeaten with a frightening first-round stoppage of veteran Fernando Montiel, whose fourth trip to the canvas ended with him senseless and face-down on the canvas, his eyes open.
Berto and Ortiz opened the rematch a bit more cautiously than their first fight, but Ortiz got a dripping cut on his hairline from head contact in the first round. He then dropped Berto with a straight left hand in the waning seconds of the second round.
Berto was more angry than hurt, and he responded with tactical punches.
"I fell asleep in there for like two seconds, and it threw me off, because he was boxing," Berto said. "It threw me off my game plan because I didn't think he was going to try to box. My feet were tangled, actually. I just fell on my butt. It wasn't no shot that hurt me."
Like us on Facebook
Follow us on Twitter & Instagram