AUTO PACKAGE: Wait is on for Darlington Raceway, more than 16 months between Sprint Cup races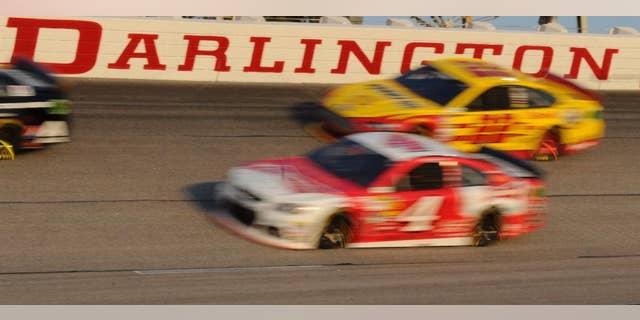 COLUMBIA, S.C. – Darlington Raceway president Chip Wile acknowledged that he gets antsy at times watching tracks host two, three or four Sprint Cup races since the last time NASCAR showed up at his place.
The payoff this Labor Day, Wile says, is well worth the wait.
The "Lady in Black" has gone without NASCAR's stars since April 2014 when Kevin Harvick took the checkered flag. The circuit will return in September when the Southern 500 reclaims its once sacrosanct holiday weekend.
NASCAR shook up the schedule last fall, moving Darlington from a spring slot it held the previous 10 years back to Labor Day, where the race became one of the season's crown jewels between 1950 and 2003.
The layoff of more than 16 months is unusual, Wile said. Some tracks, like Michigan and Pocono, will have hosted four Sprint Cup weekends since NASCAR last ran at Darlington.
"I don't want to say it's tough," he said. "We've kept ourselves busy."
The free time has given Darlington's staff that chance to put on a celebration of the sport's history, Wile said. Harvick and other Stewart-Haas Racing teams have already announced throwback paint schemes to honor Darlington's return to Labor Day. Food stands will offer old favorites like pimento cheese sandwiches, fried green tomatoes and sausage perlo, a sausage and rice dish.
The 1.366-mile egg-shaped oval has recently hosted a marathon, several movie nights, blood drives and, this past weekend, held a concert to benefit the Darlington Education Foundation.
"Those are the things, at the end of the day, that don't generate a lot of attention, but align us with the community," Wile said.
Darlington has been a staple of the NASCAR community since Harold Brasington carved the track out of some cotton and peanut fields in 1949. The next year, the Southern 500 was born and became one of NASCAR's most coveted trophies, won by many of the sport's greatest drivers.
In the age of super-sized race arenas, though, there wasn't as much call for a smallish (60,000 seats) country track. Darlington lost one of its two NASCAR weekends to realignment in the early 2000s, then saw its Labor Day date shifted first to California and then Atlanta.
Darlington was given Mother's Day weekend, a previous off date for NASCAR that seemed to signal the track's eventual path to getting padlocked for good.
But Darlington turned Mother's Day into a success, honoring drivers' moms while racing under the lights on Saturday nights. After nine races on Mother's Day weekend, the track's schedule shifted again to mid-April in 2014. Organizers said track goers would see better weather and face less competition for other regional events like golf tournaments and double-barreled NASCAR events in nearby Charlotte the following two weekends that siphoned off some Darlington patrons.
Last August, though, came word that Darlington would again be on Labor Day. It gave track staff the chance to tap into NASCAR history for the return.
"We're the Wrigley Field of NASCAR," Wile said. "And a race everybody wanted to win. Now, we're back to the weekend where everyone remembers us."
Wile would not commit to Darlington remaining on Labor Day — "That's not something that's up to us," he says — but believed whenever NASCAR races here, it connects racing's past to its future.
Darlington took steps in that direction at its April 2014 race when it tapped Bill Elliott and his son, Chase, as part of its campaign about the track's history.
"We want to make this the weekend to celebrate the history and the heritage" of NASCAR, he said. "We also want to celebrate where we're going."
___
UNSER-PALOOZA
The Unser family is having a racing reunion and what better place than Indianapolis.
The SportsCar Vintage Racing Association says it is bringing five members of one of racing's greatest families, including patriarchs Al Unser Sr. and brother Bobby, to the association's Brickyard Invitational program at Indianapolis Motor Speedway from June 11-14.
Also attending are Al Unser Jr., Robby Unser and Johnny Unser. Between them, the group has won nine Indianapolis 500s. Al Sr. leads the way with four while Bobby won three. Al Jr. took two Indy 500 crowns.
"I understand what the name Unser means to race fans, especially in Indianapolis," said Tony Parella, the SVRA president and CEO. "I speak for everyone at SVRA to say we are honored this great family agreed to be a part of our weekend."
The five Unsers will all be on the track at the same time in the oval exhibition portion of the weekend.
Johnny Unser, the cousin of Al Jr. and Robby, is the son of the late Jerry Unser Jr.
___
WHO LIVES IN A PINEAPPLE UNDER THE SEA?
Crew chief Scott Zipadelli wore a "SpongeBob Squarepants" onesie at last week's truck race in Kansas to fulfill the challenge he made with driver Ben Kennedy that raised $20,000 for the fight against pediatric cancer.
Kennedy got a SpongeBob onesie pajama set last month when he was in Kansas promoting the race. He tweeted to Zipadelli that he found his uniform for the weekend. That's when Zipadelli said if Kennedy could raise $10,000 for the effort to increase awareness of and to stop pediatric cancer, the crew chief would wear the cartoon pajamas.
Kennedy said people responded with donations of more than $10,000 and Nickelodeon, SpongeBob's network, gave $10,000 after hearing about the effort.
Kennedy's Toyota Tundra featured SpongeBob and other characters from the show. The money went to the Martin Truex Jr. Foundation.
"I thought the challenge was a great way to bring awareness to a good cause and to have a little fun with our paint scheme," Kennedy said.
___
LARSON'S ROOTS
Rising Sprint Cup star Kyle Larson is offering drivers at the California kart track where he learned to drive a lucrative night of racing.
Kyle Larson Racing is sponsoring the Outlaw Kart Showcase at Cycleland Speedway in Chico, California on Sept. 8. The event will offer a $20,000 purse in the Outlaw Kart Open Division. The night's overall high-point earner will receive $5,000.
"Cycleland Speedway was where I cut my teeth and learned how to race," said Larson, 22, who's had eight top-five finishes the past two seasons. "It's where I developed my style as a driver, met some of my closest friends and where people starting hearing my name."
Larson was the Sprint Cup rookie of the year last season.