Australia, Philippines basketball players involved in wild brawl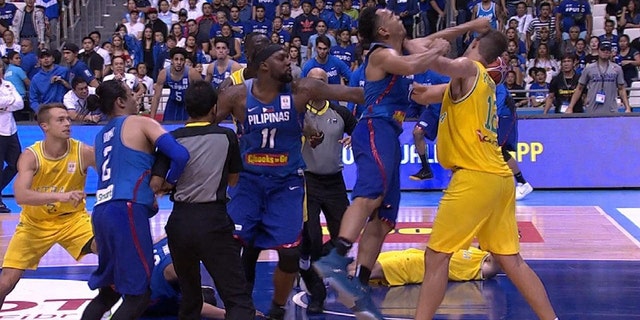 A violent brawl broke out Monday during the first round of the FIBA World Cup Asian qualifying game between Australia and the Philippines.
Australia was leading, 79-48, with about four minutes left in the third quarter when Philippines player Roger Pogoy appeared to elbow Australia's Chris Coulding in the jaw. Pogoy was then met by a punch from Daniel Kickert. The incident sparked a wild melee.
Both benches cleared and the fight went behind the basket and into the scrum of photographers who were lined up on the baseline. Thon Maker, who plays for the NBA's Milwaukee Bucks, appeared to throw flying knees at several Filipino players during the scrum.
Toward the end of the brawl, a chair and a water bottle were thrown at an Australian player.
"I just want to appeal to everybody to please settle down. We didn't want what happened to happen," Philippines basketball president Al Panlilo said in an address to fans as the game was stopped, according to ABS-CBN News. "We are hosting this game, and this is basketball. We will wait for the referees for their decision, but please respect the game, and may our visitors feel safe in the arena"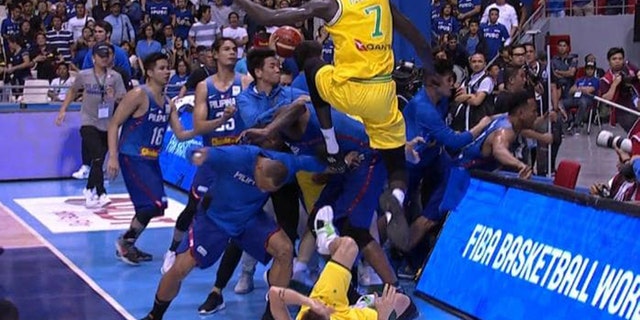 Referees ejected nine Philippines players: Terrence Romeo, Carl Bryan Cruz, Jayson Castro, Calvin Abueva, Andray Blatche, Tory Rosario, Japeth Aguilar, Matthew Wright and Pogoy. The result left just three Philippines athletes to finish the game.
Australia's Nathan Sobey, Goulding, Maker and Kickert were also ejected.
The game later resumed, with Australia cruising to an 89-53 win.