Aussie swimmers ordered to take down gun photos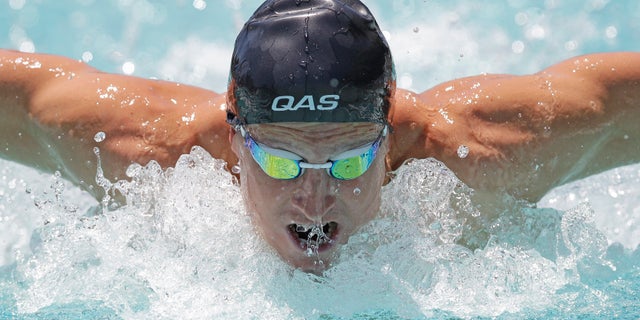 SYDNEY – Olympic swimmers Nick D'Arcy and Kenrick Monk are in hot water again after being ordered to remove photos of themselves posing with guns from their social media sites.
The photo of Monk holding two pump-action shotguns and standing beside D'Arcy, who had a pistol in each hand, in a U.S gun shop spread quickly in social and traditional media Thursday, with Sydney Daily Telegraph taking to Twitter to ask: "Are you offended by this photograph of Nick D'Arcy and Kenrick Monk in a US gun shop?"
Swimming Australia issued a statement saying it became aware of "inappropriate photos" and "instantly contacted the athletes involved to ask for them to be removed."
D'Arcy and Monk have faced disciplinary panels before. Both are on the way back to Australia from a meet in the U.S. and will be asked for an explanation for the photos.
D'Arcy was excluded from the Australian team for the 2008 Olympics after assaulting another swimmer in a bar fight in Sydney the night he won selection in the squad. He was later convicted and ordered to pay former Australian swimmer Simon Cowley compensation for serious facial injuries, but declared himself bankrupt claiming massive personal debts.
The AOC had to approve his nomination for the 2012 Olympics. Monk was lucky to avoid charges after hitting the headlines last year for falsely claiming to police that he'd been the victim of a hit-and-run auto accident. He later admitted that he was injured when he fell of his skateboard.
The Australian Olympic Committee said it would wait for the Swimming Australia investigation into the latest episode before considering sanctions for what it described as "foolish and clearly inappropriate for members of the 2012 Australian Olympic team."
"This incident serves as a warning to all athletes ... about the dangers of social media," Nick Green, Australia's chef de Mission for the London team. said in a statement. "We say again to our athletes, do not put anything up on social media that you would not share with your mother or your grandmother.
"There is no such thing as privacy on social media. Anything that is put up will be in the public domain."
D'Arcy is a medal contender in the 200-meter butterfly at London, and Monk is a member of the 4x200 freestyle relay.