Auburn WR coach sheds light on Duke Williams' suspension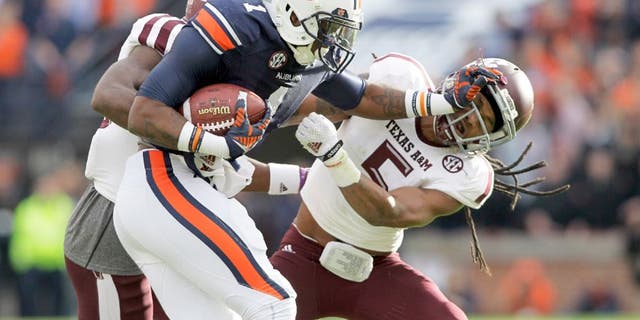 NEWYou can now listen to Fox News articles!
Reasons behind the six-day suspension of Auburn's star receiver Duke Williams have been kept completely under wraps by the coaching staff. They have continued to call it an unspecified "discipline issue" without giving any further explanation.
Williams' position coach, Dameyune Craig, felt compelled to shed details on the suspension, according to AL.com.
"It's a certain standard that we have here at Auburn University and as far as the way we're going to practice and being accountable, and that's it," Craig said. "It wasn't no more or no less and I can promise you that.
"There wasn't no altercation, there wasn't no arguments, so we can stop the speculation."
Rumors had begun to surface indicating Craig and his star pupil had a confrontation of some kind, a rumor Craig was quick to stamp out.
"It was nothing that was out of line," Craig said. "It wasn't a big deal; it's that this is what you're supposed to be doing with who you are."
Regardless of the action that caused the suspension, Williams' actions are certainly disappointing heading into a season in which the team has high hopes for the season. If the team can't rely on their star player to consistently do what's expected of him after his long history of issues at Auburn, they may soon move on without him.
(h/t AL.com)