Aubrey Huff making a comeback after three-year layoff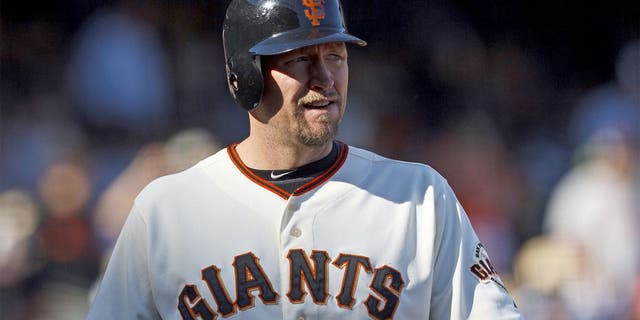 NEWYou can now listen to Fox News articles!
Aubrey Huff captured in his final major-league season in 2012 with the San Francisco Giants. Jason O. Watson Getty Images
Four years after celebrating a World Series victory with the San Francisco Giants in 2012, Aubrey Huff hopes to be donning a major-league uniform once again in 2016.
Huff, who officially announced his retirement in January 2014 after not playing for a major-league team in 2013, revealed in a video with Gillette World Sport that he is training for a comeback next season.
The former utility man, who played with the Tampa Bay Rays, Baltimore Orioles and San Francisco Giants in his 13-year career, divulges in the video that he struggled with anxiety and depression at the time of his retirement.
"My career didn't really end the way I wanted it to," Huff says in the video. "I was 35 years old and I still had a lot of baseball in my bones, but I was going through so much anxiety that right then was a good time to quit."
Upon revealing his intentions to close the book on his career, Huff said at the time that he "couldn't even imagine picking up a bat and trying to get ready for the whole grind of a baseball season anymore."
Now, he is working out with trainer Jason Huntley at Velocity Sports Performance in San Diego, Calif. with the hope that he'll be picked up by a major-league team this offseason.
"I've been wanting to come back and end it the way I wanted to," said Huff, who will turn 39 in December. " … Not only do I want to come back, I don't want to sit [on] the bench. I want to have the best season I've ever had in my life."
In his 13 seasons in the big leagues, Huff hit .278/.342/.464 with 242 home runs and 904 RBI in 1,681 games. While he primarily played first base in his three seasons with the Giants, the left-handed batter also fielded third base and the two corner outfield positions during his career.
Although his comeback is a personal journey, he strives to inspire others who deal with anxiety and depression through it.
"The biggest thing for me is to inspire people because millions and millions of people live with anxiety and depression throughout their life," he says. "If they can see a guy that's went through it publicly and go out there in front of 40,000 people a night and know that it can be beat, it's going to give them a lot of hope."
Huntley, his trainer, has been impressed with Huff's work ethic and believes his comeback attempt will not only be successful but stellar.
"It's 'Aubrey Huff, Fully Alive,'" Huntley says, "He's already seen himself playing in the All-Star game next July in San Diego, so it will happen. He'll get there."
In his final season with the Giants in 2012, Huff hit .192 in 52 games and was superseded by Brandon Belt as the team's first baseman.
After a long layoff from baseball, he says he realized how integral the sport was to his life.
"I believe in hard work. I believe in the grind," he says. "If you're not facing fears, if you're not grinding it out every day, and you're not really embracing a challenge, then you're dying inside. And to me, that's where I was.
"After baseball was over, I was dying 'cause I didn't have a grind. I didn't have a purpose."
(h/t CSN Bay Area)