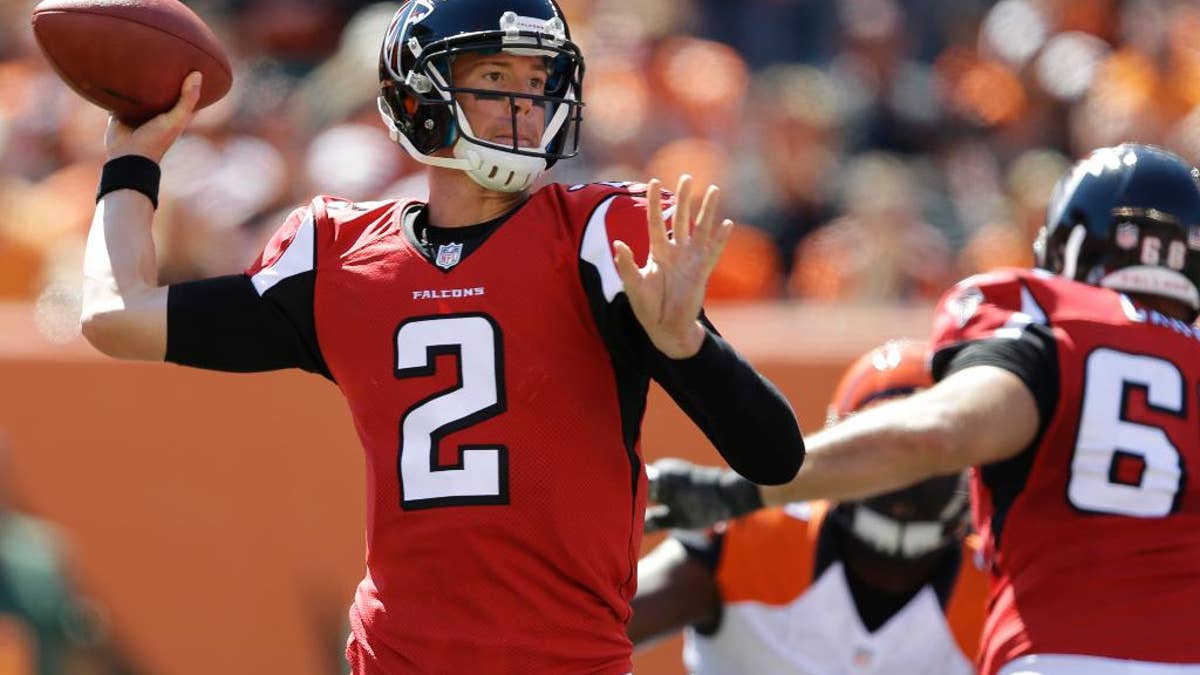 FLOWERY BRANCH, Ga. – It looked like 2013 all over again for the Atlanta Falcons' offense last week.
Matt Ryan spent most of the game with the pocket collapsing quickly around him and nobody open downfield.
Even so, the two-time Pro Bowl quarterback is blaming himself for many of the problems that made Atlanta, which looked so promising the week before in a season-opening win over New Orleans, fall apart at Cincinnati.
With just two days of full practice this week, Ryan says the Falcons (1-1) have abundant mistakes to correct before Tampa Bay (0-2) visits the Georgia Dome on Thursday night.
"One of the things we've seen is that when we're capable of making some explosive plays one week, the following week we're not," Ryan said Tuesday. "We've got to get to a point where week in and week out we play the way we're capable of."
Even with star receivers Julio Jones and Roddy White on the field nearly four full quarters, the Falcons averaged just 4.6 yards on 44 passing attempts in a lopsided loss to the Bengals.
Ryan had little time to set his feet as Cincinnati brought pressure the entire game without having to rely on zone coverage in the secondary.
There were few chances for Ryan to throw deep, and Atlanta's shorter routes were heavily contested. Ryan threw three interceptions, was hit nine times and sacked twice.
He says the picks were his fault.
"Any way you slice it, you can't do that and expect to win," Ryan said. "I've got to be better than that."
Last year's problems have been well documented. The Falcons finished a 4-12 season with the league's worst rushing attack. Ryan suffered a career-high 44 sacks and pressured 203 times, most in the NFL.
Atlanta could catch a break this week in matching up against Tampa Bay's cover-2 defensive scheme.
The Buccaneers will be without middle linebacker Mason Foster, who's sidelined by a dislocated shoulder, and could be without Gerald McCoy as the All-Pro defensive tackle nurses a broken left hand.
Tampa Bay coach Lovie Smith has said that McCoy might suit up with a cast, but that decision might not be made until game time. Defensive end Michael Johnson, who missed last week's 19-17 home loss to St. Louis with a sprained ankle, has been limited in practice the last two days.
"We're going to prepare for those guys to play," Ryan said. "I think that's the way we've done it around here and then adjust on Thursday night if something happens differently."
The Falcons could get a boost with the return of rookie left tackle Jake Matthews from a sprained left ankle. Matthews, the league's sixth overall draft pick, has fully participated in practice the last two day after missing the Bengals game.
Matthews' return means that Gabe Carimi will likely move back to start at right tackle as Lamar Holmes, who struggled badly against Cincinnati, returns to the bench.
Starting receivers Roddy White and Julio Jones are expected to be at full strength, too. White was given the last two days off to rest a sore hamstring. Jones, coming off right foot surgery that ended his season after five games last year, participated fully in practice Tuesday after being limited the day before with a sore right ankle.
Ryan has been pleased with a return to respectability for the running game, which is tied for sixth in the league with an average of 5 yards per carry.
"I think we need to continue to be efficient in the run game," Ryan said. "In terms of the pass game, we just need to be more consistent."
With Ryan having won five of six against Tampa Bay and owning an 8-4 career record against the NFC South rival, Atlanta coach Mike Smith likes his team's chances.
"I don't think there's any doubt that Matt is going to bounce back," Smith said. "I know we've got to take care of the football. That's the most important thing."
___
Online:
AP NFL websites: www.pro32.ap.org and www.twitter.com/AP_NFL
___
Follow George Henry on Twitter at www.twitter.com/georgehenryAP