Atlanta Hawks' Thabo Sefolosha blames police for season-ending injury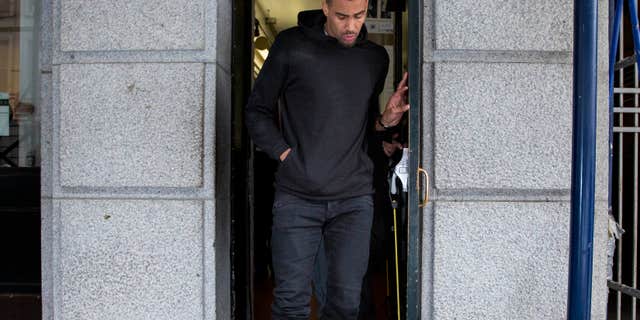 Atlanta Hawks player Thabo Sefolosha blamed New York City police Tuesday for causing a "significant injury" that has knocked him out for the rest of the season.
Sefolosha suffered a fractured right lower leg and ligament damage while being arrested with teammate Pero Antic outside a Manhattan nightclub while the Hawks were in the city to face the Brooklyn Nets last week.
"On advice of counsel, I hope you can appreciate that I cannot discuss the facts of the case. Those questions will be answered by my attorney in a court of law," Sefolosha said after the team's practice, reading from a statement in his first public comments since the incident. "I will simply say that I am in great pain, have experienced a significant injury, and that the injury was caused by the police."
He also said this "has been a difficult time for me and I truly appreciate the support I have received from everyone. I am extremely disappointed that I will not be able to join my teammates on the court during the playoffs and apologize to them for any distraction this incident has caused. I will be cheering for them every step of the way and will be diligent in my rehabilitation."
Antic and Sefolosha were at the scene last Wednesday when Indiana Pacers forward Chris Copeland was stabled outside the nightclub. Antic and Sefolosha were charged with obstructing authorities and disorderly conduct, though Antic said they were not even with Copeland when the incident happened.
"We don't have nothing to do with what happened with that," Antic said last week. "We weren't together. We didn't even see the guy and whatever happened, happened way before."
Copeland, his girlfriend and another woman were stabbed in the early morning hours last Wednesday. Copeland underwent surgery and a 22-year-old suspect was taken into custody.
Sefolosha declined to answer most questions from reporters after his statement. When asked about a video that surfaced online allegedly showing the police striking him in the leg with a baton, he said, " I don't want to go into details on anything but I think the video speaks for itself."
Sefolosha said he will undergo surgery in the next few days and had a better timetable on his return for next season.
"I am disappointed that I will miss the playoffs. I hate this feeling that I'm letting my teammates down," he said. "At the same time, I can't speak too much on it. I just hate the bad look it gives on the team."
Antic, a backup center, said he and Sefolosha were not trying to shield police or onlookers from Copeland.
"I would say that it's a pure example of being in the wrong place at the wrong time," Antic said. "I mean, people know Thabo for so many years in the league. He's probably one of the greatest guys."
The National Basketball Players Association said it was investigating the arrests. An attorney for the players, Alex Spiro, said they did nothing wrong and expects the charged to be dropped.
Both were released without bail. Sefolosha was limping noticeably during his court appearance.
"The players union is concerned about the circumstances of Thabo Sefolosha and Pero Antic's arrest," National Basketball Players Association spokeswoman Tara Greco said.
The Hawks (60-21) have set a franchise record for wins and have the top seed in the conference playoffs for only the second time since moving to Atlanta in 1968. The loss of Sefolosha came with the Hawks already dealing with the loss of All-Star forward Paul Millsap due to a sprained right shoulder.
Millsap practiced Tuesday and may be able to play in the regular-season finale Wednesday at Chicago.
The Hawks will host Game 1 of the playoffs either Saturday or Sunday.
The Associated Press contributed to this report.