At Minnesota Vikings game, some fan views on Adrian Peterson abuse charge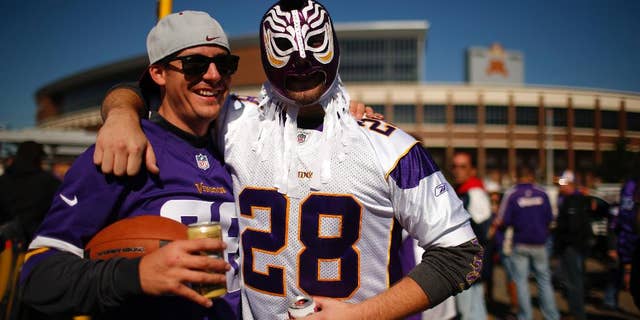 MINNEAPOLIS – A roundup of fan comment on Minnesota Vikings star Adrian Peterson's indictment on a child abuse charge, gathered outside TCF Bank Stadium on Sunday, when the Vikings lost 30-7 to New England:
Andy Chadwick, 34, Henderson, Minnesota:
Chadwick said that even though he is not anti-spanking, he was disturbed by the allegations and some punishment of Peterson is warranted.
"I think the threat of being spanked is more of what was a deterrent for me when I was a kid. ... When you start actually hitting your kids with objects that are causing bruises and open wounds — (it) definitely crosses a line."
But Chadwick said Peterson deserves a second chance.
"I think we live in a pretty forgiving society and ... I don't think he's a maniac or a sociopath. I think if he can change his ways, I don't have any reason to believe he shouldn't be playing in the NFL."
Liz Pushing, 43, of Minneapolis:
"I think we need to wait for all the facts to come out before we react, given that what we've seen at this point is still just a small portion of the evidence."
Nick Novak, 29, a season ticket-holder from Roseville:
Novak said when he first heard of the incident, it sounded like a regular spanking, but his view changed as he learned more.
"I don't think he was trying to abuse his child," Novak said. "I think he was trying to punish the child for wrongdoing. . He did cross a line though."
Novak said he likes Peterson, and his opinion of him won't change until more details come out. He said there are still a lot of unknowns.
"Maybe he has a history of this, we don't know. From an outside view, I thought Adrian Peterson was a great guy, but maybe he has, ah, maybe he's doing this a lot. And if not, then we'll find out and he can play again. But if this is a common thing for him, where he's doing this all the time, we probably won't be seeing too much of him anymore."
Novak added: "This is definitely the worst week the NFL has ever seen."
Rachel Fricke, 30, a season ticket-holder and Peterson fan from Brooklyn Center:
"I think it was a simple mistake," she said, adding that it was a spanking that went a little too far. "I think he knew what he did was wrong. I'm still going to support him because I think it was a simple mistake."
Scott Asplund, also known as Skolt Scott, who had his face painted purple and yellow and wore Vikings horn, and carried a shield and fake sword.
"We've got to let things just settle and work their course. Peterson, to his credit, has been doing everything to cooperate."
Asplund said the issue is not one of domestic violence, but is a parenting issue.
"What concerns me is this was already talked and met about down there, and now it's popping up again. Why is that? That's a question to me, the timing of this whole thing."
Asplund said it was probably good for Peterson to sit out Sunday's game.
"It's a huge distraction kind of thing. So in some sense, for the sake of the team and his teammates, and just a sense of focus, it's probably OK that he's out. For himself, this has to be a huge distraction and a concern too."
David Gunderson, who also wore the Vikings horns and facepaint:
"It's a parental issue," Gunderson said. "Personally, I think it's a personal matter and shouldn't even be in the ... media. ... Nor should he be deactivated for this game because it did make it into the media."