ASU holds on late to upset No. 7 UCLA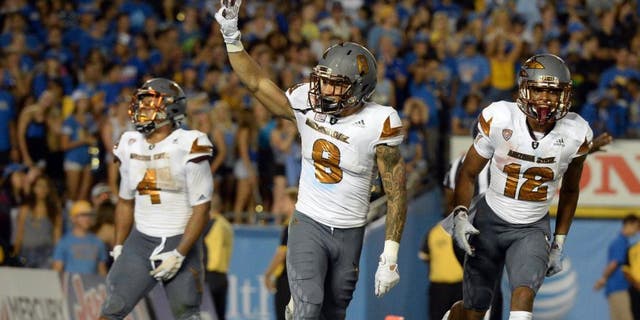 NEWYou can now listen to Fox News articles!
PASADENA, Calif. -- Kalen Ballage ran the ball into the teeth of UCLA's defense in the final minute and refused to go down. One after another, his Arizona State teammates pushed and shoved him away from the Bruins and in for the clinching touchdown.
The Sun Devils knew they could only overcome their disappointing start to the season if they gave a boost to each other -- and in Ballage's case, they really meant it.
Mike Bercovici passed for 273 yards and two touchdowns and ran for another score, and Arizona State got its season back on track with a 38-23 victory over No. 7 UCLA on Saturday night.
Tim White and D.J. Foster caught scoring passes for the Sun Devils (3-2, 1-1 Pac-12), who responded to their dire situation after two September losses with an inspired effort in their second straight win at the Rose Bowl.
"We're used to this situation, unfortunately," Bercovici said. "We've had some big losses, but what we do is we rebound."
Arizona State built a 29-10 lead on UCLA (4-1, 1-1) heading into the fourth quarter. Thomas Duarte caught his second touchdown pass from Josh Rosen with 9:19 left, trimming the Sun Devils' lead to 29-23 and getting the Rose Bowl rocking.
But after Matt Haack's exceptional punt and a defensive stand forced the Bruins to take a safety with 4:16 left, Ballage wrapped it up with a 23-yard TD run with 45 seconds to play, covering most of that distance with UCLA defenders hanging on him in what looked like a rugby scrum.
"We're happy, but we're not surprised," said Ballage, who missed the first three games of the season because of mononucleosis. "We know what this team is capable of."
Arizona State's defense rebounded splendidly after giving up 42 points in a home loss to Southern California last week. The Sun Devils shut down UCLA's running game and tormented Rosen, pressuring the freshman relentlessly while forcing him into a 22-for-40 performance for 280 yards with an interception.
"It's just real frustrating, just real demoralizing personally on the sideline," Rosen said. "It's just really tough when you're putting that much stress on (the UCLA defense) and you can't get it going until really late."
Prolific UCLA tailback Paul Perkins was held to 63 yards rushing and a fourth-quarter touchdown.
"There wasn't much trickery," Arizona State coach Todd Graham said. "We came over and dominated the line of scrimmage, dominated all three phases."
Bercovici made a 34-yard TD run up the middle early in the third quarter. Demario Richard led the Sun Devils with 79 yards rushing and added 57 yards receiving, while former UCLA receiver Devin Lucien made a key fourth-quarter catch for ASU.
The road team has won all four games in this matchup since Graham and Jim Mora took over at their respective schools in 2012. The Bruins scored 140 points in their last three meetings with the Sun Devils, but Arizona State's defense was in charge for most of the night this time.
UCLA's defense largely held up well, but the absence of three injured starters might have showed more than it did in a blowout win at Arizona last week.
"You don't like to blame injuries for performance, but the fact that you've lost three of the top players in the country, that is going to hurt you."
Arizona State took the lead in the first quarter when Rosen was called for intentional grounding in the end zone on the Bruins' fourth possession. White followed up the Sun Devils' first safety in two years by returning the kickoff 65 yards and then rumbling in with a 14-yard TD catch.
Bercovici ran practically untouched up the middle for a score early in the third quarter, and Foster caught a TD pass shortly afterward.
UCLA's offense finally got rolling in the fourth quarter, with Perkins making a gutsy 29-yard run before a 1-yard TD plunge. Linebacker Isaako Savaiinaea made a midfield interception moments later, and Duarte caught a 17-yard TD pass.
Arizona State's next drive stalled at midfield, but Haack rolled his punt out of bounds right in front of the goal-line pylon, and UCLA snapped its own punt attempt high out of the end zone on purpose.
After the final gun, Arizona State celebrated with its strong traveling fan contingent.