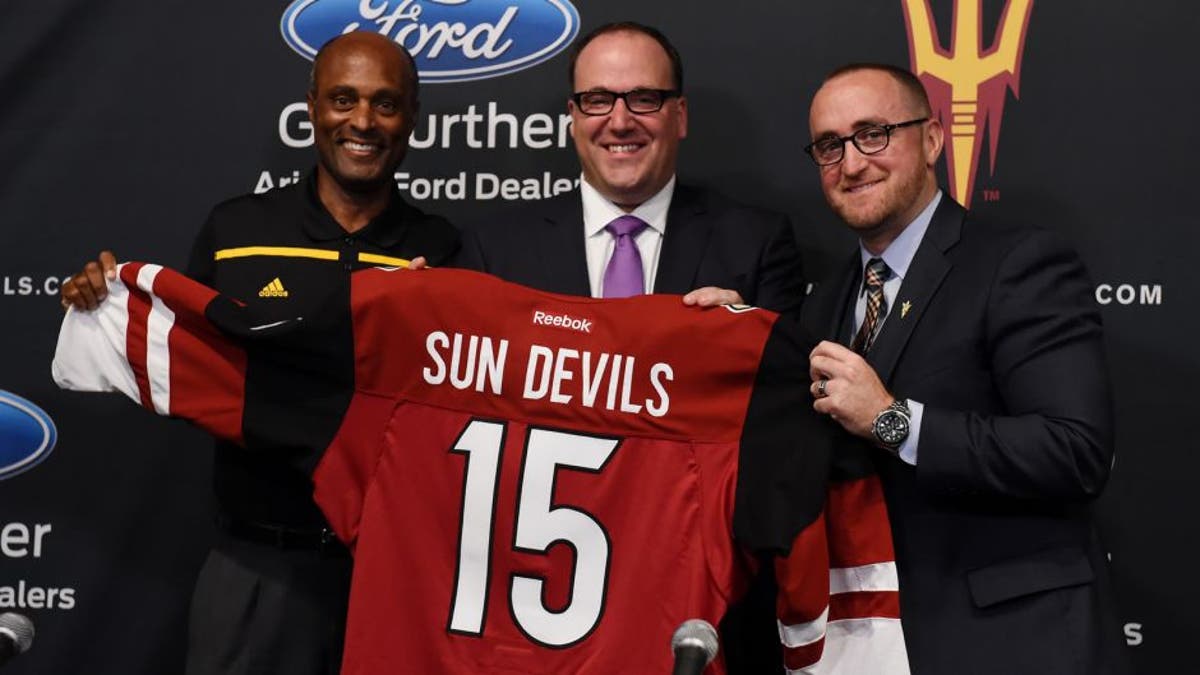 TEMPE, Ariz. -- Arizona State University and the Coyotes announced Wednesday that the university's hockey program will play four games at Gila River Arena this season as it begins its three-season transition to full NCAA Division I status.
The arena will also host two additional NCAA games.
The Sun Devils will host the University of Arizona at Gila River Arena on Oct. 3. ASU will also host a four-team tournament, the Desert Hockey Classic, with Connecticut, Yale and Michigan Tech. Two games will be played on Jan. 8 (ASU opens with Yale), with the consolation and championship games on Jan. 10. ASU will also host the U.S. National 18-U team at Gila River Arena on Feb. 28.
"This is a fantastic opportunity and a fantastic partnership for Sun Devil hockey," ASU athletic director Ray Anderson said. "The fact that people know we are going to play our signature games in a larger, NHL arena and are on our way to having our own Division I quality arena at some point in the not too distant future makes this an exciting opportunity for student-athletes who want to get in on the ground floor and be a part of growing this program."
The university announced in November that it would elevate its national championship men's club hockey team to Division I status, becoming the first power-five conference school to add men's ice hockey since the Big Ten's Penn State added the sport in 2012.
The move was made possible by private donations of $32 million by a group of hockey supporters, including Don Mullett, the father of former Sun Devil hockey student-athlete Chris Mullett.
The plan is for the Sun Devils, who won the American Collegiate Hockey Association championship in 2014, to play a hybrid schedule in 2015 with a mixture of DI and ACHA competition, followed in 2016 by a full DI schedule independent of conference alignment. The team plans to transition to full Division I membership in 2017 and will join a Division I conference.
The Sun Devils will still play 11 of their 15 home games at Oceanside Ice Arena in Tempe, but coach Greg Powers said the hope is to play more games at Gila River Arena next season as the program's schedule becomes more Division I heavy with potential heavyweights like Michigan and Boston College on the slate.
"We're looking to build a tradition," Powers said. "You can fall in line with a school that has a longstanding tradition, but here you get a chance to build a new tradition in a climate and location that is really unique.
"We're not like any other sport in this building. There are no other schools out here that have hockey so we don't have to compete with them for recruits. We're going to take advantage of that."
For the Coyotes, the partnership gives them the opportunity to book six more events at Gila River Arena while turning more potential fans on to the game of hockey.
"It's all about growing the game," Coyotes co-owner, president and CEO Anthony LeBlanc said. "We've always said people just need to get out and see the game live and it starts to hook you. Hopefully, this is a means toward making that occur."
LeBlanc said the sky is the limit when considering what else this partnership might produce. LeBlanc said the two sides have had very basic talks on the possibility of partnering on a multi-ice surface facility that could one-day be the training facility for the Coyotes.
Anderson didn't shy away from the possibility of the Coyotes and ASU partnering on something bigger if the Coyotes do have to explore arena options outside of Glendale (but still in the Valley) once their two-year arena lease and management agreement with the City of Glendale expires.
"Some folks wonder 'would you at some point do a playing arena together?' " Anderson said. "Who knows? I don't know. I'm not one who wants to limit the possibilities at all. What I do know is: right now and for the immediate future, it's a really good partnership that serves mutual interests."
Sharing an arena would be difficult since the seating capacity for an NHL arena needs to be much larger than a college hockey facility. It's likely ASU will build a smaller arena on campus for hockey and other Olympic sports that could be ready as soon as 2018 or 2019.

LeBlanc was understandably cautious on the idea of partnering on a bigger facility, particularly because the team wants to work with Glendale on a longer-term agreement than it currently has.
"We have had very good dialogue with the city and with the Mayor and that is still our focus," he said. "Having that all said, we have to look and see what the future looks like for us and make sure it's secure here in the Valley. As I've mentioned in the past, we have to listen to any expressions of interest and we're certainly doing that."