ASU gives No. 13 Oregon a scare but Brooks comes through late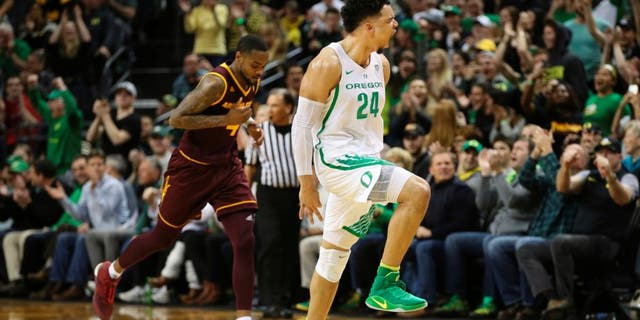 NEWYou can now listen to Fox News articles!
EUGENE, Ore. -- Losing two games in a row wasn't an acceptable option for Dillon Brooks.
Coming off a loss at Colorado, he knew the margin of error for defending Pac-12 champion Oregon was too slim to slip up again.
Brooks scored 27 points, including the last 12 of the game for the 13th-ranked Ducks, as Oregon escaped with a 71-70 victory over Arizona State on Thursday night.
"I really wanted to pull out that win," Brooks said. "I knew we couldn't lose this game."
Brooks hit the go-ahead 3-pointer with 1:32 to play for the Ducks (20-3, 9-1), who trailed 60-59 before their preseason All-America took over in the final 3 minutes.
"The second half our ball movement was better and then we relied on Dillon," Oregon coach Dana Altman said. "He made some big-time offensive plays. He was really good late there.
"He likes being in that situation, which is a big part of it."
Jordan Bell had 13 points and 11 rebounds for the Ducks, who outrebounded the Sun Devils 40-30. Oregon made 7 of 13 from 3-point range in the second half.
Shannon Evans II led Arizona State (10-13, 3-7) with 28 points and Tra Holder had 17.
The Sun Devils had possession trailing 71-68 with 18 seconds left, but the best they could get was a rebound basket by Torian Graham. Oregon ran out the final 2.9 seconds for the win.
Brooks, who had 21 points in the second half, said a short bank shot over Graham that put the Ducks ahead 49-41 was the key to his hot finish. He was 9 of 14 overall and 3 of 5 from 3-point range with six rebounds and four assists.
"I've seen him take over games like that," Bell said. "I told him to just keep being aggressive and just keep cooking. I knew No. 4 (Graham) couldn't guard him, so just keep going."
Despite a decided height advantage, Oregon struggled to find any rhythm against Arizona State's four-guard lineup. The Ducks were just 1 of 10 from 3-point range in the first half and trailed 28-25.
It was the fewest points Oregon had scored in a first half since early season losses to Baylor and Georgetown.
The Ducks have less than a 48-hour turnaround before hosting Pac-12 leader Arizona and Allonzo Trier on Saturday.
"He definitely gives them another bullet, another weapon," Altman said. "We're going to have our work cut out for us.
"We'll hope we're ready to go at 1 o'clock."
BIG PICTURE
Arizona State dropped to 0-6 against ranked teams this season and is 1-5 in Pac-12 road games
STAT OF THE NIGHT
Oregon is 20-3 for the first time since the 1937-38 season. The last time the Ducks started conference play 9-1, they went on to win the 1939 national championship.
UP NEXT
Arizona State goes for its 13th win in its last 16 games against Oregon State on Saturday in Corvallis.