Astros' Tucker learns base-running lesson the hard way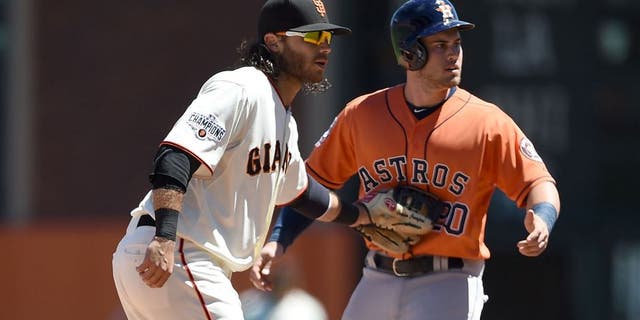 For young players, every day bring with it the opportunity to learn lessons about the game.
Houston Astros youngster Preston Tucker experienced that firsthand on Wednesday afternoon while on the bases.
With shortstop Carlos Correa at the plate with a full count in the sixth inning, Tucker took off for second base. The pitch was called a strike, which caught Correa off-guard as he had begun trotting to first base (having assumed it was ball four).
San Francisco Giants catcher Buster Posey astutely fired down to second base, where Tucker was caught stealing mostly because he, too, assumed it was ball four and had slowed to a trot. it resulted in a double play - and some confusion on behalf of the Astros.
After the game, Tucker explained his mishap to MLB.com's Brian McTaggart: "Obviously, I shouldn't have shut it down. The ball looked up and away and I'm obviously looking for the umpire's reaction. I saw him step back. I thought it was a ball, and I guess as Correa is walking across the plate, that's when he ended up ringing him, and I didn't see that part."
His manager, A.J. Hinch, recognized the moment as a potentially formative experience for Tucker: "Ultimately, you've got to finish plays. I think that's the lesson learned there. I think everybody played umpire a little bit. Carlos played umpire and started towards first base, Tuck played umpire and shut it down. Those are some of the mistakes we've got to clean up to be the team that we are."
For Tucker's sake, he'd better make sure this kind of thing doesn't happen again, especially with the Astros clinging to perilous lead in the AL West.
(h/t MLB.com)