Astros player Yuli Gurriel appears to make racist gesture mocking Japanese opponent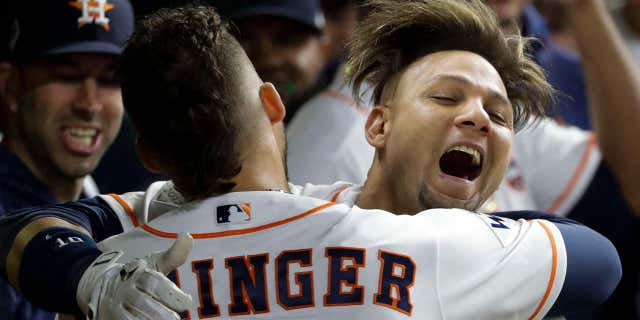 Houston Astros first baseman Yuli Gurriel came under fire Friday night after he appeared to make a racist gesture in the dugout during Game 3 of the 2017 World Series.
Gurriel gave host team Houston a 1-0 lead over the Los Angeles Dodgers when he hit a home run off pitcher Yu Darvish in the second inning. Cameras then captured him on the bench pulling at his eyes, appearing to mock Darvish, who is Japanese.
Astros manager A.J. Hinch said after the game -- which the Astros won 5-3 to take a 2-1 series lead -- that he was aware of the apparent gesture Gurriel made.
"I know he's remorseful," Hinch told reporters, according to ESPN.
Gurriel, through a translator, said if Darvish "feels offended I want to apologize to him."
Darvish told reporters after the game that Gurriel's gesture was "offensive to everybody."
"He made a mistake. He'll learn from it," Darvish said. "We're all human beings."
Darvish released a separate statement after the game.
Major League Baseball is expected to investigate the gesture and could end up suspending Gurriel, CBS Sports reported. Other players have been suspended in the past for using anti-gay slurs.