Astros owner Crane presents Fiers with gifts recognizing no-hitter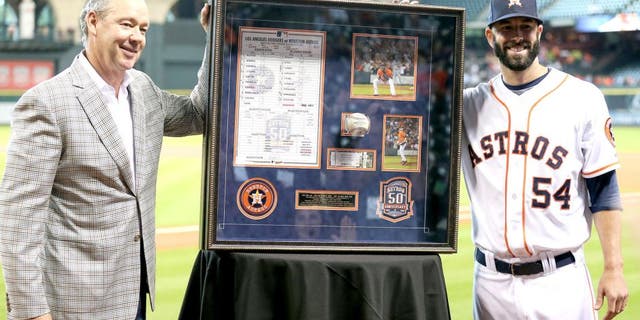 NEWYou can now listen to Fox News articles!
Before the Houston Astros took on the Seattle Mariners on Monday night at Minute Maid Park, pitcher Mike Fiers was rewarded for his recent no-hitter.
In a ceremony on the field prior to first pitch, Astros owner Jim Crane presented Fiers with a fancy Breitling watch and some commemorative items honoring Fiers' big night on August 21.
MLB.com's Brian McTaggart quoted Crane as saying the following of the honors and Fiers' no-no: "You don't see many of those, so we wanted to do something special and gave him a little shadow box with some nice pictures in it describing the game. In the locker room, we gave him a watch from one of our sponsors, Breitling. Just a little special gift, and we'll engrave the back of it so he won't forget about it."
Jose Altuve and Dallas Keuchel received similar gifts for their respective selections to the 2015 All-Star Game, as Crane expressed his enthusiasm for Fiers' no-hitter and his players' personal achievements this season: "We just want to reward their efforts, and when they do something really special like that, we want to give them a token of our appreciation and kind of set a tradition here, whether it's a watch or something else, depending on what they do. We're so happy for him and the team, and it's another bright spot in this year's season."
A few other Astros personnel have good shots at awards themselves (specifically Rookie of the Year frontrunner Carlos Correa and Manager of the Year contender A.J. Hinch), so there may be more watches given out in the next few months.