Astros offseason preview: Add some arms, and 2016 will be even better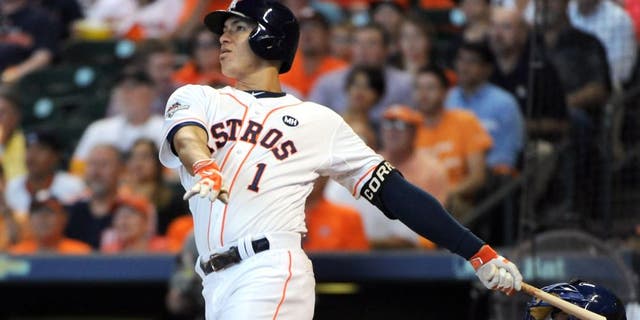 NEWYou can now listen to Fox News articles!
(We will preview one team's offseason each day leading up to the start of free agency. Now up: the Houston Astros.)
The Astros caught the league by surprise this season, leading the AL West for much of the year before making the postseason as the second AL wild-card club. With their youthful energy and steady leadership from first-year manager A.J. Hinch, they dominated the New York Yankees in the AL Wild Card Game and pushed the Kansas City Royals to the brink of elimination before falling in Game 5 of the ALDS.
Given that Houston "arrived" a year or so before most seemed to expect it would, there are plenty of reasons to assume this team be back at it again in 2016. Among them: Carlos Correa has blossomed into one of the game's top young talents, forging quite a dynamic duo with second baseman Jose Altuve up the middle.
Three things the Astros need to do in order to come back strong next spring:
1. Decide whether to re-sign Colby Rasmus. The otherwise somewhat unassuming outfielder established himself as an October hero in the Astros' six postseason games, clubbing four home runs and driving in six in the middle of the lineup. He'll hit free agency as soon as the World Series ends, and there's no guarantee the Astros will bring him back. In fact, they could very well let him walk. How they proceed with him will be integral in assembling their 2016 roster. Should they let him sign a free-agent contract elsewhere, they'd have an open outfield spot to fill with someone like Jake Marisnick, another young player or someone from outside the organization. Rasmus enjoyed his time in Houston this past season, but it could very well have been his one and only year there.
2. Tweak the bullpen ever so slightly. The Astros had a lights-out bullpen for much of the early portion of the season, but it wore down during the stretch and proved to be a bit of an issue during the ALDS. Right-hander Will Harris was solid during the regular season (1.90 ERA and a 0.901 WHIP in 71 innings), but he was tagged with a loss in Game 2 of the ALDS and struggled in the eighth inning of Game 4 when the Royals staged a furious rally to turn a 6-2 deficit into an eventual 9-6 win. The Astros' mix-and-match bullpen worked for much of the 2015 season, but its decline in the final few months was one of the reasons the club lost its hold on first place and was relegated to a wild-card spot.
3. Dallas Keuchel, Collin McHugh, and...who else? Houston is set at the first and second spot in the starting rotation, as AL Cy Young Award candidate Keuchel and 19-game winner McHugh are big reasons why the club made the postseason. Beyond them, however, there are decisions to make. Scott Kazmir is a free agent, and despite having some issues with consistency after joining Houston he'd be a mostly solid No. 3 should the Astros re-sign him. Lance McCullers has officially arrived as well and should hold down a rotation spot, but it wouldn't hurt Houston to go out and find another full-time starter should Kazmir walk for a more lucrative situation elsewhere.