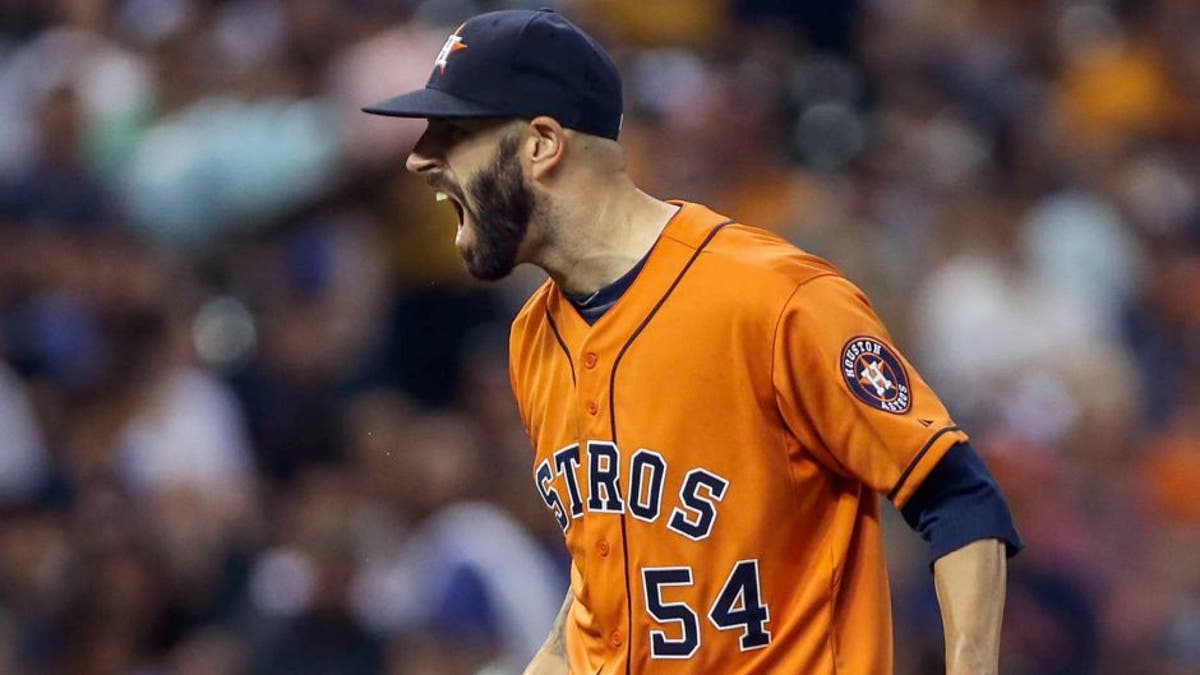 HOUSTON -- Mike Fiers pitched the second no-hitter in the major leagues in nine days and the fifth one this season, but it was a singular experience for the new Houston Astros starter.
"It's everything you dream of as a kid," Fiers said after leading the Astros to a 3-0 victory over the Los Angeles Dodgers on Friday night.
Fiers (1-0 for Houston, 6-9 overall) struck out Justin Turner on his 134th pitch to end it and threw his glove high into the air after his first career complete game.
Seattle's Hisashi Iwakuma tossed a no-no on Aug 12.
Fiers said his exhaustion didn't hit him until he threw his last pitch.
"After I got that last out, everything kind of hit me," he said. "Once you're in that moment, you don't feel anything, really. You're going off adrenaline at that point."
Meeting with the media after the game, Fiers was emotional in describing what his achievement meant.
"Knowing that my mom's watching -- she passed away a couple of years ago -- I still feel that," he said. "My dad, all my friends, I really do it for them, too. ... I feel that inside. It's what keeps me going. ...
"My family, my friends, it's for everybody that's with me."
Astros executive Nolan Ryan, who threw a record seven no-hitters, applauded from a suite as Fiers was mobbed by his teammates near the mound after finishing the 11th gem in Astros history.
Ryan went down to the dugout to congratulate Fiers after the game, and it was the first time the two had met.
Cole Hamels with Philadelphia, San Francisco's Chris Heston and Washington's Max Scherzer also have thrown no-hitters this season.
A night earlier, the Astros were on the wrong end of a gem, getting just a fifth-inning single against Tampa Bay's Chris Archer.
Acquired by the Astros at the trade deadline to help with their playoff push, Fiers was stellar in his first two starts for Houston. This was something else, though.
Having never even gotten an out in the ninth inning in his five-year career, Fiers was dominant. He struck out 10 and walked three, retiring the final 21 batters.
Fiers needed little help from his defense until Jake Marisnick had to sprint to catch a long fly ball by Jimmy Rollins just in front of the bullpen in right field for the first out of the ninth inning.
Fiers crouched in relief, then pointed out to his teammate.
The closest the Dodgers came to breaking it up was in the sixth inning, when Turner's towering shot to left with two outs hooked foul.
The 30-year-old right-hander allowed a walk in each of the first three innings, but didn't allow a baserunner after walking Joc Pederson to start the third.
"My command was off a little early. I just tried to stick with it. I knew it was going to come," Fiers said. "This game is all about playing for your teammates, guys on the field with you."
After that, he repeatedly had the NL West-leading Dodgers fooled with a nasty curveball and changeup to complement a fastball in the low 90s.
It was the first no-hitter by one Astros pitcher since Darryl Kile blanked the Mets on Sept. 8, 1993. Six Houston pitchers combined to throw one against the Yankees on June 11, 2003.
Fiers was acquired with Carlos Gomez from Milwaukee on July 30 and has been rejuvenated by the move from a last-place club to the top of the AL West. He allowed just one earned run over 12 innings in his first two starts for Houston.
His no-hitter comes after a tough year in 2014, when he hit Miami's Giancarlo Stanton in the face with a fastball.
Fiers was a 22nd-round pick of the Brewers in 2009. He made his major-league debut in September 2011 and spent his entire career with Milwaukee before the recent trade.
Marisnick gave the Astros a 2-0 lead in the second with a two-run homer off the left-center facade. Evan Gattis hit a solo home run to left in the sixth.
Brett Anderson (7-8) allowed three runs on seven hits with five strikeouts in six innings.
TRAINER'S ROOM
Dodgers: OF Yasiel Puig (right hamstring) ran before Friday's game, and Los Angeles manager Don Mattingly said he expected Puig to play in the three-game series against Houston. .. IF Howie Kendrick (left hamstring) did some running and drills Friday, but Mattingly said the Dodgers don't expect him back before September 1.
UTLEY MAKES DEBUT
Utley made his Dodgers debut Friday after being acquired Wednesday from Philadelphia. Utley batted second and was the designated hitter, but Mattingly said he could play some third base once Howie Kendrick comes back.
"Obviously, he's a guy that we have had a lot of respect for over the years," Mattingly said. "He's a guy that's tough. He's a good player. He gives us an option at second. Probably try to work him in to see how comfortable he would be at third to give (Justin Turner) a day off there after Howie's back. I feel good about having him on our roster."
UP NEXT
Dodgers: RHP Zack Greinke (13-2) looks for his ninth straight win Saturday in the second game of the three-game series. Greinke is 8-0 with 1.16 ERA in his last 11 starts and leads the majors with a 1.58 ERA.
Astros: LHP Scott Kazmir (6-8) will look to rebound after allowing six runs over 5 2/3 innings in his last start Monday - a 9-2 loss to Tampa Bay.