Astros' Keuchel wins again; Indians fall 4-2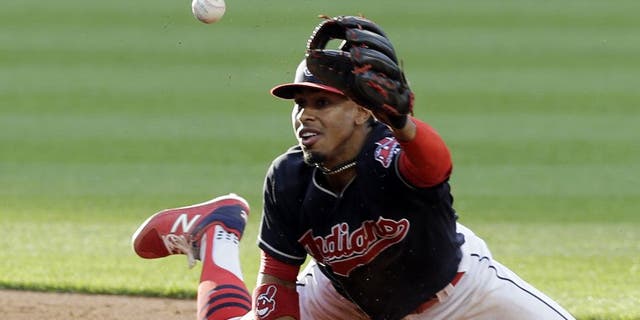 NEWYou can now listen to Fox News articles!
CLEVELAND (AP) -- Dallas Keuchel pitched a complete game to extend his promising start to the season and the Houston Astros beat the Cleveland Indians 4-2 Tuesday night even though Jose Altuve and Teoscar Hernandez left following a frightening collision in the eighth inning.
Altuve and Hernandez were chasing a popup in right field and stayed down for a while after. Altuve appeared to get hit near his chin by Hernandez's arm, but he walked off the field under his own power. Hernandez, called up from the minors before the game, was carted off the field with an injury to his left leg.
Keuchel (4-0) gave up solo homers to Austin Jackson in the third and Michael Brantley in the ninth. The left-hander, who won the AL Cy Young Award in 2015, held Cleveland to six hits and has a 1.22 ERA.
Josh Reddick gave Houston a 3-1 lead with a two-run single in the fifth, and then took a home run away from Jason Kipnis with a leaping catch at the center field fence in the bottom of the inning.
Josh Tomlin (1-3) allowed three runs -- all in the fifth -- in six innings.
Houston is 10-2 since April 11 and leads the AL West at 14-6.
Brantley started the ninth with a home run and Jose Ramirez reached on a one-out single. Kipnis struck out and Brandon Guyer grounded out to end the game.
Keuchel went 20-8 with a 2.48 ERA two years ago. Plagued by a sore shoulder last season, he finished 9-12 with a 4.55 ERA and didn't pitch in September.
Jackson hit his first home run since Oct. 1, 2015, while playing for the Cubs against Cincinnati. He played in only 54 games with the White Sox last season because of knee surgery in June.
Reddick played center field because of injuries to George Springer (strained left hamstring) and Jake Marisnick (concussion). Reddick tracked Kipnis' towering drive to dead-center in the fifth and pulled it back in the park with a leaping grab. Keuchel let out a yell as Kipnis held his helmet in frustration as he rounded first base.
Houston began the fifth with four straight hits, including Norichika Aoki's RBI single that tied the game.
Cleveland, coming off a 5-1 road trip, fell to 2-5 at Progressive Field.
TRAINER'S ROOM
Astros: Marisnick was placed on the seven-day concussion list before the game. He ran into a wall chasing a fly ball Sunday.
UP NEXT
Astros: RHP Lance McCullers allowed three hits and struck out eight in 6 2/3 scoreless innings against the Angels on April 20.
Indians: RHP Trevor Bauer is 5-0 with a 1.97 ERA in five career starts against Houston.