Astros' Keuchel, Marisnick ride high with Breitling Jet Team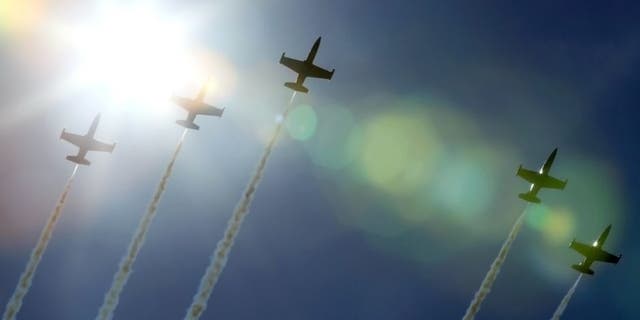 NEWYou can now listen to Fox News articles!
After frustrating experiences, most folks like to 'get away from it all' - but few do it like this.
On Friday, less than two full days after losing Game 5 of the ALDS to the Kansas City Royals, Houston Astros pitcher Dallas Keuchel and outfielder Jake Marisnick were treated to rides in jets piloted by the Breitling Jet Team.
Evan Drellich of the Houston Chronicle explains that Breitling is a sponsor of the Astros, and the Dijon, France-based jet team is in town as part of an American tour.
When asked about the adventure, Keuchel told Drellich that it was, "Amazing. It was definitely exhilarating and something that I wanted to do for a long time. So glad to be a part of it."
Drellich took the opportunity to ask Keuchel if he had given any consideration to his (very strong) odds of being named the AL's Cy Young winner after a season in which he went 20-8 with a 2.48 ERA (15 of those wins coming at Minute Maid Park) and started the All-Star Game.
Keuchel said he has thought about it, "maybe a little bit" but then discussed his viewpoint of the Astros' season, which ended a bit early by his estimation.
"Sour taste in our mouths. Based on what we did against in New York and having a 2-1 series lead in (the DS against) Kansas City with the best record in (the AL)," he told Drellich. "But we'll take what we experienced and hopefully get some good knowledge, and hopefully maybe get one or two pieces in the offseason for a complete team and make a run at it next year."
So what about the chances of adding another frontline starter to the Astros' staff before 2016? Drellich asked Keuchel about someone such as David Price, who will hit the free agent market after the World Series. Keuchel replied that he wouldn't mind seeing Scott Kazmir return, but knows that Price is an attractive option as well: "I don't know. We'll see. He's gonna get a very, very nice contract, and ultimately, he's going to do what's best for him. But at the same time, we got a piece in Kazmir that I was a big fan of, and just getting to know him, he could really help us out the next three or four years or so. There's quite a few lefties that I like, and we'll see what happens."
Adding one more solid rotation mate to join Keuchel, Collin McHugh, Lance McCullers, Mike Fiers and Scott Feldman is one thing the Astros could do before 2015, and they will have some options available.