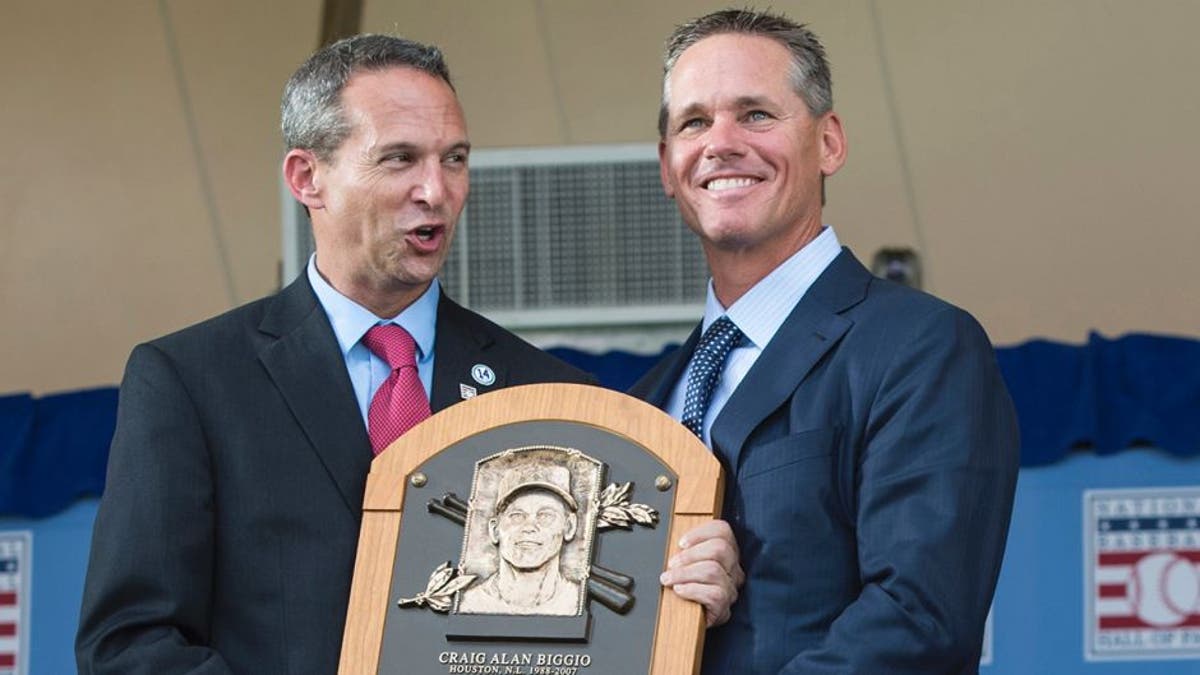 Twenty seasons with the Houston Astros brought Craig Biggio the ultimate honor Sunday afternoon as he was inducted into the Baseball Hall of Fame.
With 45,000 fans attending the ceremony in Cooperstown, New York - many of whom were wearing No. 7 Astros jerseys - Biggio became the first Houston major-leaguer to achieve baseball's top honor, entering the Hall along with pitching greats John Smoltz, Pedro Martinez and Randy Johnson.
"What an incredible honor it is to be standing in front of these great men," Biggio said during his 17 minute speech. "I've played against a lot of them, I admired a lot of them, I respected all of them."
Biggio was both an All-Star catcher and second baseman in his long tenure with the Astros. He is the first player in major league history with at least 3,000 hits (3060), 600 doubles (668), 400 stolen bases (414) and 250 home runs (291).
For anyone who has ever seen Biggio play on the field, one word to describe his performances day in and out would be 'gritty'. So naturally the word was etched in the first line of Biggio's bio underneath his name on his plaque. The line stated, "gritty spark plug who ignited Astros offense for 20 Major League seasons." He said having the word was perfect for a guy who was often covered in dirt and had years of pine tar caked on his helmet.
Biggio took the time to thank many of his former teammates, coaches, family and friends with many of them present to witness the historic moment. Fittingly, Biggio took a special moment to mention Jeff Bagwell - who could soon join him in Cooperstown - and his impact on Houston baseball during their time together with the Astros.
"We played 15 years together and changed the culture in Houston by making it a baseball town," Biggio said. "We both got to live our dreams together by playing in the big leagues side by side. Thanks for being here today. It really means a lot."
Most importantly, Biggio described what the game he loves has done for him.
"I gave the game everything I had, every day," Biggio said. "In baseball, tomorrow is not guaranteed and I tried to play every game as if it was going to be my last. I want to thank the game for everything. The game has given me everything -- my family, my friends, respect but most of all, memories of a lifetime. Thank you very, very much from the bottom of my heart."
The wait is over, Houston, you finally have your first baseball Hall of Famer.
MORE FROM FOX SPORTS SOUTHWEST:
- Predicting awards and winners of the 2015 MLB season
- Ranking NFL quarterback salaries
- 21 Fun Facts about the NCAA tournament
- Highest paid player of each NBA team
- College football's highest paid coaches in 2014