Astros' Alex Bregman asked to change his number to honor Derek Jeter, but homered as tribute instead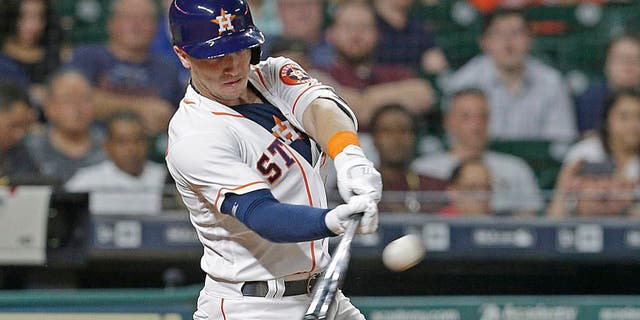 Houston Astros infielderAlex Bregman is a huge Derek Jeter fan. He wears No. 2 in honor of Jeter and on Sunday, he tried to change his jersey number just to pay respect to the former Yankees shortstop.
Prior to Sunday night's Astros-Yankees game at Yankee Stadium, where Jeter's number was retired to Monument Park, Bregman apparently sought out a uniform change so that he wouldn't have to wear the same number as the Yankees legend on his special night.
I got here this morning and I was asking the clubhouse guy if I could get a different jersey, but they only had one, he said, via MLB.com. They would have had to make a full new jersey. But I was going to try and not wear 2 tonight to have that number not work. Its an honor to be on the same field as him.
Since he couldn't swap numbers, Bregman found another way to pay tribute. He blasted his first home run of the season (and his first career grand slam) in the first inning, smiled the entire way around the bases and then pointed to the No. 2 on his jersey.
Overall it was a pretty special night for Bregman. Not only did he get to share the field with his childhood idol, but he then had a milestone performance on national television as well. He certainly seemed excited about it all.
I guess it was the No. 2 magic tonight, he said after the Sunday night finale, via the New York Post. It was a really cool moment, Sunday Night Baseball. I was at dinner [Saturday] night with [ESPN announcer Aaron] Boone, and I told him, I said, Hey, you never know. No. 2, Derek Jeter Night, it might happen. When I hit it, I was like, Holy cow.
Pool Photo-USA TODAY Sports | Pool Photo