Astros advancing in postseason brings back baseball buzz in Houston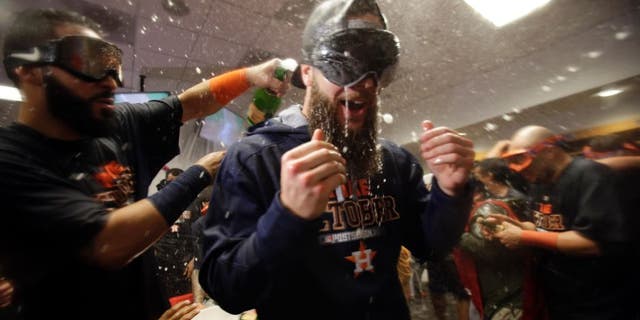 NEWYou can now listen to Fox News articles!
Thursday night, the Houston Texans take the field at NRG Stadium to take on their biggest division rival, the Indianapolis Colts.
Normally, a divisional NFL game of this caliber would have the entire city's focus towards the football field... instead it's all about baseball in Houston this October.
The Houston Astros are in the playoffs for the first time since 2005. It has been 10 long years of baseball turmoil in the city since Craig Biggio and company stepped off the field after a four-game sweep at the hands of the Chicago White Sox in the 2005 World Series.
To put that length of time in some perspective, the last time the Astros were playing this far into October, Facebook had just started allowing non-college users, George W. Bush was just one year into his second presidental term, no one Tweeted about it as Twitter did not exist and iPhones were still two years from debuting.
While the Astros are only Wild Card game champions for now after defeating the New York Yankees in the one-game playoff series, fans are buzzing about their hometown team just being relevant again as Houston gets set to take on the Kansas City Royals in a best of five series in the ALDS.
Understandably so. From 2008, their last winning season, through 2014, the Astros have lost a total of 590 games, compared to just 382 wins during the timespan, including three-straight seasons of 106 or more losses.
In the offseason, fans mocked an innocent Tweet sent out by the Astros' official Twitter page notifying followers an October Taylor Swift concert schedule at Minute Maid Park would be "subject to change" if it conflicted with a Houston postseason home game. Little did they know, the Astros were on the verge of something special.
After bottles of champagne were sprayed around the visiting clubhouse at Yankee Stadium Monday in celebration, sporting goods stores across the Houston area have been quickly running out Astros "Take October" playoff gear stock, sports bars have been packed with Astros' orange and blue baseball jerseys and local radio stations can't stop talking about the surprising "young team" that is well ahead of it's rebuilding schedule.
It was a slow road in 2015 with Astros fans building trust in their home team. Used to being the laughing stock of Major League Baseball for the past six years, fans were slow to fill up Minute Maid Park on a daily basis, perhaps expecting the inevitable collapse they were "sure" would happen. The fall never happened, the Astros held up, as fan attendance and excitement starting building in late season games. Now Houston is being rewarded with a home playoff game on Oct. 11 -- which sold out mere hours after tickets went on sale Wednesday.
While no one expected the Astros to be in this position in the postseason, Houston is already being dubbed this season's "Kansas City" by many who now are setting new goals for the team: a World Series title.
Fans would have been glad to just see a winning record from this Astros team, but with a team jumping into the thick of the MLB playoffs, Houston has turned into a baseball town once again.