Ask Chip Kelly about the Eagles, not college jobs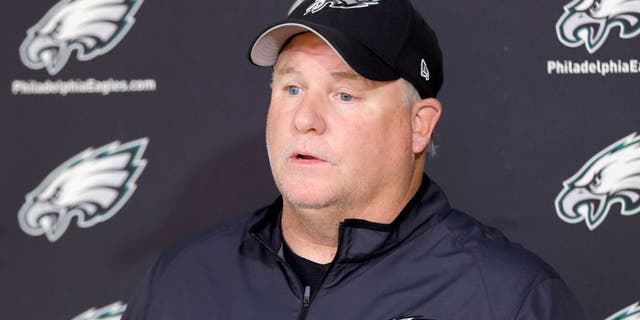 These next 800 words or so may soon prove to be regrettable, for there have been coaches who have come before us -- coaches anointed geniuses at the college level but dunces in the NFL -- who have declared their allegiance to the professional level only to bail at the first few signs of resistance to their ways and head back to the comforts of amateur sports.
I just do not believe Chip Kelly is one of them.
The Philadelphia Eagles' coach spent a portion of his Thursday press conference addressing questions about whether he, his agent or practically anyone within six degrees of him has spoken to USC about its head-coaching vacancy. Because, you see, Kelly once coached in college and was damn good at it, so he must be yearning for the chance to go back because this NFL stuff is hard, man. As players are quick to point out when they're asked about allowing their opponent to make a play, "Hey, they get paid, too."
It just doesn't seem fair to Kelly to continue to ask him about every single college job that opens up. And yes, continue is the right word because Thursday's questions about USC weren't the first.
"I'm not a candidate for a college job," Kelly told Philly reporters last December when asked about the University of Florida's opening. "I don't think our pro offense would work on the college level."
Ha. Good one.
This time, when asked about USC, Kelly went for flattery over humor to defuse the situation.
"I hope to be like (Tom) Coughlin and win enough games where I can stay around long enough for that speculation to end," Kelly said, referring to the Giants' coach, who will bring his team into Lincoln Financial Field on Monday for a key NFC East matchup. "I understand you have to ask the question, but I answered it the same way a year ago. I answered it the same way my first year."
So here's a suggestion: No more asking him. Not without any evidence he's engaging in conversations with a university.
The Eagles are struggling at 2-3. There's no question this season hasn't yet lived up to expectations, and it's going to take a lot more than a late thrashing of a sputtering New Orleans Saints team for Kelly's offensive-genius card to be reissued.
Kelly also hasn't yet mastered the player-coach relationship at the NFL level, where higher salaries and longer tenures with the team than the four years a college player gets give the guys under the helmets a bit more leverage than the guy under the headset.
Former Eagles LeSean McCoy and Cary Williams bristled at the coach's offseason and in-season physical demands, and other players didn't appreciate the Big Brother-like approach to sleep studies and daily diets. Then, there were accusations hurled his way by former players, namely McCoy, that he's a bit of a racist. And there was the Evan Mathis situation, where Kelly cut him because he claimed the Pro Bowl guard's agent told the team he wouldn't be back without a reworked deal. (Kelly should look no further than how the Seattle Seahawks called Kam Chancellor's bluff for the proper play call in that situation.)
All of this -- combined with the fact Kelly's offense isn't moving the ball nearly as easily against the Dallas Cowboys as he used to against Portland State -- has people thinking Kelly will be the next Nick Saban, Bobby Petrino or Steve Spurrier and say, "You know what, this isn't for me."
But so far, there have been no indications he'll pulling a Saban by telling the media, "I'm not going to be the Alabama coach" two weeks before the press conference to announce him as the Alabama coach.
And let's not forget Kelly, when he was still at Oregon, turned down his first shot at an NFL job when the Tampa Bay Buccaneers came calling in 2012. He also briefly pulled out of the Eagles' search because he wasn't sure it was the right situation. That's not great evidence to support a theory the guy won't change his mind about the NFL being a better situation than college; it is, however, a sign that he's not just looking to bounce around and grab the next opportunity as long as he feels the one he currently has is the right one.
Kelly has everything he could want right now with the Eagles, including full control over personnel after he wrestled it away from former general manager Howie Roseman, who is now the executive VP of football operations. And despite a slow start to the season, Kelly still has a legitimate shot at a division title and a home playoff game.
If the Eagles can't make that happen, if they miss the playoffs for the second straight year, if the team's downfall seems to be due to Kelly's failures as a GM, coach or both and if the locker room dissidents start speaking up in droves, then it'll be fair to speculate about Kelly's future. Heck, owner Jeff Lurie might even do it for him.
But for now, Kelly seems intent on focusing on making the Eagles as good of a football team as possible. There are plenty of questions to ask on that front. Those are the ones that should be asked.