A's Vogt set a record in team's recent pair of seven-run innings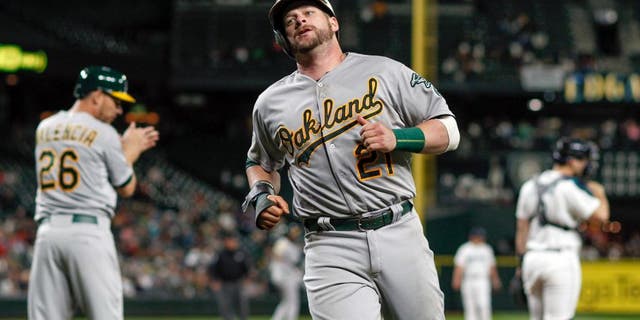 The 2015 Oakland Athletics are a mysterious team. Languishing in last place, they're on pace to finish the year with one of the worst records they've had in the past decade or so.
And yet, despite their season-long woes, the offense has shown the ability to break out in bunches. It did so again on Sunday and Monday of this week, as a seven-run seventh inning on Sunday led to an 8-2 win over the Tampa Bay Rays. A day later, the Green and Gold rattled Hisashi Iwakuma and the Seattle Mariners with a seven-run fifth en route to an 11-5 victory.
Something peculiar happened on those two days...catcher Stephen Vogt batted twice in each of those seven-run innings, picking up two base hits in each frame. That's particularly rare in A's history, as pointed out by A's Media and Player Relations manager Adam Loberstein on Twitter:
Beat writer Susan Slusser of the San Francisco Chronicle did some more digging and this sort of thing HAS happened other times in MLB, the most recent of which was about a decade ago:
This is the fun little statistical tidbit that can come out of marathon run-scoring innings, and now 2015 AL All-Star Vogt has a nice bit of trivia about himself to share with the world if he ever feels like doing so.
(h/t Twitter)